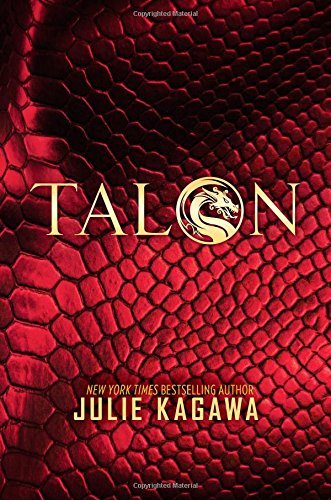 Publisher's Note:
Book 1 of the Talon Saga

In Julie Kagawa's groundbreaking modern fantasy series, dragons walk among us in human form.

Long ago, dragons were hunted to near extinction by the Order of St. George, a legendary society of dragon slayers. Hiding in human form and growing their numbers in secret, the dragons of Talon have become strong and cunning, and they're positioned to take over the world with humans none the wiser.

Ember and Dante Hill are the only sister and brother known to dragonkind. Trained to infiltrate society, Ember wants to live the teen experience and enjoy a summer of freedom before taking her destined place in Talon. But destiny is a matter of perspective, and a rogue dragon will soon challenge everything Ember has been taught. As Ember struggles to accept her future, she and her brother are hunted by the Order of St. George.

Soldier Garret Xavier Sebastian has a mission to seek and destroy all dragons, and Talon's newest recruits in particular. But he cannot kill unless he is certain he has found his prey—and nothing is certain about Ember Hill. Faced with Ember's bravery, confidence and all-too-human desires, Garret begins to question everything that the Order has ingrained in him—and what he might be willing to give up to find the truth about dragons.
Talon
by Julie Kagawa
Overall Review:
Author Julie Kagawa takes the traditional fantasy creature, the dragon, and inserts it into a contemporary setting in the young adult fantasy novel Talon. There is a melding of the myth with evil conspiracy theories/organizations and the quest for independence and freedom. Many of the elements, when stripped to their barest form, are quite common for current young adult fiction: the love triangle, the dictatorial society suppressing freedom, and the rebellion against this society. However, in spite of these familiar and faddish elements, this read works because Ms. Kagawa has created some standard, but like-able characters. Ember, Garrett, and even Riley have conflicted motivations that are well-developed and plausible. Plus, the dialogue is smooth, natural, and at times humorous. Alternating first person narratives move this book along at a good clip to what is almost a cliff-hanger ending, setting up the series for book two.
Content Analysis:
Profanity/Language: 4 religious exclamations; 59 mild obscenities; 1 religious profanity; 21 derogatory names; 8 scatological words; 19 anatomical terms; 1 offensive hand gesture; 2 F-Word derivatives.
Violence/Gore: Multi-page battle between humans and mythical creature involving fire, shooting, deaths, mention of blood, injuries (non-detailed); report of violent death of parents (non-detailed); teenage girl pushes teenage boy, boy slaps girl, girl kicks boy in groin; brief fistfight; character threatens/desires to castrate with a pair of rusty pruning shears; training exercises; characters play zombie shooting video game, mention of blood; character has bruising on arm as evidence of injury; brief scene of fist fight; brief fight between humans and mythical creature involving shooting and fire, injuries sustained; extended battle scene (a few details) between mythical creatures and humans, involving hitting, biting, fire, gunfire, injuries sustained with mention of blood.
Sex/Nudity: Several instances where characters think about another character being attractive; innuendo; flirting; reference to kissing and "doing it in the hot tub"; reference to someone in birthday suit (non-sexual); character kissed against will; characters touch on the arm, leg, back; characters kiss; character straddles another character's lap and they kiss; characters kiss passionately; characters embrace; character kiss with some description of using the tongue; character gives another character a condom (it is not used, but discarded); joke about a hooker; reference to dragons breeding; dragons embrace.
Mature Subject Matter:
Death, war.
Alcohol / Drug Use:
College-age characters and teenagers drink beer; teen wakes up with a hangover; teenagers drink beer at a party.
Reviewed By Cindy