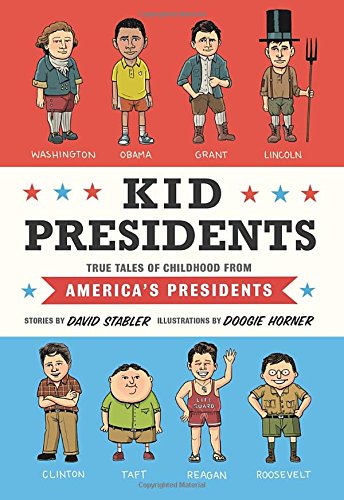 Publisher's Note:
Forget the legends. Ignore the tall tales. The kids who grew up to be president weren't superheroes. They had regular-kid problems just like you. John F. Kennedy hated his big brother. Lyndon Johnson pulled pranks in class. Barack Obama was bothered by bullies. And Bill Clinton was crazy clumsy (he once broke his leg jumping rope). Kid Presidents tells all of their stories and more with fullcolor cartoon illustrations on every page. History has never been this much fun!
Kid Presidents: True Tales of Childhood From America's Presidents
by David Stabler
Overall Review:
What a great book! This book mixes it up to keep things interesting. Not only is it a media mix of prose, full-color whimsical cartoons, and eye-catching typography, it is a mix of stories, lists, facts, and quotes. It was quite fun and irresistible to pick up. There isn't a story for every president, but there is a list of facts in the back for each of the 44 presidents. Plus, interspersed among the stories are sections devoted to such things as jobs the presidents had as kids, injuries they sustained, and even some teacher quotes from their report cards (yep, some things will haunt you for life). This isn't a preachy book by any means, but it does leave the reader feeling as if these presidents were all once real kids with real problems and hey, if they were a kid like me, then why couldn't I grow up to be the President of the United States? Really, anything is possible.
Kid Presidents is a quick read that would be good for readers even younger than nine years old; it will especially appeal to boys, Guinness Book of World Record-lovers, and non-fiction fans. Even adults will find the book interesting.
Content Analysis:
Profanity/Language: None
Violence/Gore: Reports of death of parents, siblings, etc. due to war, illness, etc.; account of Andrew Jackson's experiences as a 13 year old during the Revolutionary War (capture, beat with sword, forced march barefoot, imprisonment); various accidents, broken bones, and injuries listed; hunting animals for food (no details); animal hit with a broomstick; in anger a child punches a tree until knuckles are bloody; several description of Kennedy brother fights, which often involved physical violence and resulted in injuries.
Sex/Nudity: None
Mature Subject Matter:
Bullying.
Alcohol / Drug Use:
None
Reviewed By Cindy