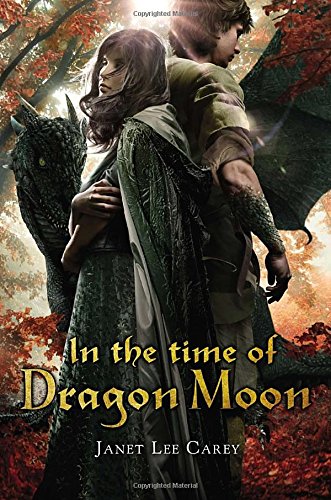 Publisher's Note:
An epic fantasy about dragons, dark secrets, Pendragons, and magic

On the southernmost tip of Wilde Island--far from the Dragonswood sanctuary and the Pendragon Castle--live the native Euit people. Uma, who is half Euit and half English, and not fully accepted by her tribe, wants to become a healer like her Euit father. But the mad English queen in the north, desperate for another child, kidnaps Uma and her father and demands that he cure her barrenness. After her father dies, Uma must ensure that the queen is with child by the time of the Dragon Moon, or be burned at the stake.

Terrified and alone, Uma reaches out to her only possible ally: the king's nephew Jackrun, a fiery dragonrider with dragon, fairy, and human blood. Together, they must navigate through a sea of untold secrets, unveil a dark plot spawned long ago in Dragonswood, and find a way to accept all the elements--Euit, English, dragon, and fairy--that make them who they are.
This book was sent to Compass Book Ratings for review by Kathy Dawson Books
In The Time of Dragon Moon (Wilde Island Chronicles #3)
by Janet Lee Carey
Overall Review:
Author Janet Lee Carey continues to spellbind readers with her latest novel, In the Time of the Dragon Moon (Wilde Island Chronicles #3). In this latest installment, Carey introduces readers to the next generation of Wilde Island inhabitants, namely teen protagonist Uma Quarteney and her quest to balance herself as a whole of two halves-- Euit & English and female & healer.
A refreshing apparatus is Carey's handiwork in making this a strong stand alone novel for those who are not familiar with the previous books in the series. Though there are mentions and appearances of previous characters in proceeding novels, it does not interfere or hinder with the current plot.
Adept at crafting a bedazzlement of fantastical elements together and not running-a-muck are the strong suit of this novel. With so many fabled factors at play--dragons, fey, old English customs, and tribal culture--Carey blends them for a nice brew rather than a disappointing mélange. Thus, exciting readers rather than confusing them with the concoction. Readers acquainted with Robin McKinley's work will no doubt gravitate to the familiar subject matter. Although the authors write about similar elements, their writing differs slightly, in that McKinley's work seems to engross lyrical writing, while Carey's rhythmic style is more intermittent, but still pleasing.
Narrated by main character Uma, there are substantial secondary characters presented in the book, some to favor, others to disdain, suiting a wide range of readers' preferences.
Mystery surrounds fantasy and not all your questions about the characters will be answered. Still, with solid pacing and smooth transitions, In the Time of the Dragon Moon (Wilde Island Chronicles #3), is a pleasurable novel for the reader who enjoys mythical, magical, and malevolent story telling.
Review of an Advance Uncorrected Proof
Content Analysis:
Profanity/Language: 14 religious exclamations; 1 mild obscenity; 8 derogatory names; 4 scatological words; 3 anatomical terms.
Violence/Gore: Report of a child being burned as a tribal ritual marking; report of an accidental non-life threatening injury; report of village being destroyed by soldiers burning houses and people; brief bloody scene character is stabbed in the heart dying; character mentions being whipped by soldiers when disobedient; report of character's eye being poked out; report of character being violent by imprisoning and executing others; character threatens to put to death other characters if they fail at a particular task; brief report of deaths; character is pushed hard hitting the wall; character is threatened with a knife; brief report of violent death; report of character being tortured with a beating and removal of limb; character is threatened with death; character is hit in the head with an object; character mentions having been whipped for deceit; animal catches fire and dies; character bites another character (somewhat comical); character is threatened; character hits and pins down character in an attempt to be intimate with them; extended scene (about 1 page) characters tackle and punch one another, character is cut; character threatens to hang another character; character threatens another character; characters spar; character kicks a child character; character watches other character spar; character is roughly grabbed by the hair of their head; character briefly falls to his/her death; character is stabbed by another causing injury; character tries to stab self; character remarks on a past violent occurrence that resulted in a non-life threatening injury; second hand report of a character almost dying by being burned alive; second hand report of character dying by animal attack 3x; character is threatened with being burned alive; dirt clods and rocks are thrown at character 2x; brief scene character is burned at the stake; character threatens violence if another character does not keep a promise; extended scene (about 1 page) animals attack characters, characters view the bloodied body of attacked character; brief scene characters are attacked by animals, character is injured, character kills animal; character recounts how they injured their mother and sister with fire; characters escape animal attack, killing attacking animal; character threatens to fight others to protect another character; character is tortured with a device; character is sentenced to be beheaded.
Sex/Nudity: A few mentions of sexual references, "infertility", "conceive/conception", "visiting bedchamber"; female character is patted down and searched by a male character, her pants are removed (non-sexual); male forcibly holds and kisses a female character 2x; character hits and pins down character in an attempt to be intimate with them; kisses hand; implication that married couple will be intimate 3x; character mentions seeing couples kiss; character reports how they were conceived; few (about 5) scenes of married couple kissing and/or embracing ; characters discuss a tonic that will help male character have a better sexual experience; mention of male in the nude about 3x; many brief (about 10) instances in which characters kiss, embrace, caress, and/or hold hands; extended scene (about 1 page) characters kiss; character removes clothes to bathe, is helped by another character with bathing (non-sexual) 2x; mention of a male character's actions of almost raping a female character; brief non-explicit scene married couple are sexually intimate; implication that married male character is being unfaithful to his wife.
Mature Subject Matter:
Infertility, tyranny, racial/gender/species prejudice, murder, death, mental illness/lunacy.
Alcohol / Drug Use:
Mentions of particular character being drunk; use of ale and wine.
Reviewed By MaryLou