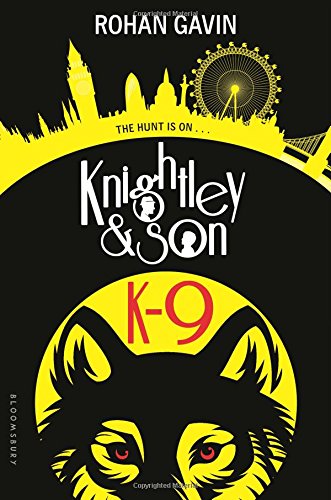 Publisher's Note:
London's Youngest detective is back . . . Darkus Knightley, tweed-wearing, megabrained, fiercely logical thirteen-year-old investigator of the weird, was just getting used to having his private-eye dad back in his life. Then Alan Knightley went off radar again, leaving Darkus with the family mutt, a traumatized ex-police dog, as his only partner in crime-solving.

Now a mysterious canine conspiracy is howling for the attention of Knightley & Son. Shadowy trained hounds are attacking policemen at the full moon. Family pets are being mauled by a beast at a top London tourist spot. And two curiously alert canines seem to be watching Darkus's house. No one is using the word "werewolf"--yet--but it doesn't take Sherlock Holmes to work out that someone or something sinister is messing with the minds of London's dog population. Will our intrepid father-son duo make it to the next full moon?

A criminally good detective adventure, perfect for fans of Sherlock and sharp-minded sleuths of all shapes and sizes.

Awards for Knightley and Son: Spring 2014 Kids IndieNext Pick, ABA Indies Introduce Pick, Kirkus Reviews Best Children's Books of 2014
This book was sent to Compass Book Ratings for review by Bloomsbury Children's Books
Knightley and Son: K-9
by Rohan Gavin
Overall Review:
Once again author Rohan Gavin pulls the reader into a mystery similar to those of Conan Doyle's Sherlock Holmes, with his new novel Knightley and Son: K-9. Fans of Sir Doyle's famous detective will recognize the nod toward The Hounds of Baskerville in this new novel as Darkus sets out to solve a mystery involving what appears to be a four-footed creature. This thrilling page-turner of a mystery will keep readers on the edge of their seats as they follow Doc through the streets and parks of London with the enemy close behind him, following his scent.
Just as in the first novel, Gavin keeps the plot moving and things from becoming too dark in K-9 by bringing together a great variety of characters. The different perspectives as the plot rolls forward vary from comical to dark, but this is what keeps the storyline interesting and progressing. Readers and lovers of mystery, young and old, should find not only this novel, Knightly and Son: K-9, but the entire series an intriguing read. As "The Combination" (the evil force that seems to be behind much of what is wrong in London) doesn't seem to have been wiped out, there is hope that there is more to come in this series.
See Review of Knightley and Son, Book 1
Content Analysis:
Profanity/Language: 3 religious exclamations; 9 mild obscenities.
Violence/Gore: Character chased by a vicious animal (4 pages); tale of the hanging of Guy Fox told; secondhand account (3 pages) of being attacked by animals and later dying as a result of injuries; description of room with dead animals in various stages of decay hung around (2 different accounts); 2 characters wrestle and results in one passing out; secondhand account of character being run over by a vehicle; 2 police officers attacked by animals; character holds knife to someone's throat; 2 people punch another person unconscious; animals attack innocent bystanders; pet bites owner's hand as a warning; character's life is threatened; secondhand account of people getting eaten by animals; large sword pointed threateningly at character; animals commanded to attack person; animals take down a person in vicious attack; secondhand account of fight between 2 characters that resulted in a broken nose; extended, frightening, and intense scene in which character is tied up in the room with dead animals; character punches and breaks mirror; character goes into a rage and tears apart room; character falls from second story with injuries; characters threatened by a group with knives drawn; animal bites would-be-attacker's arm; characters attacked by deranged character who is then attacked by an animal which results in character pulling gun and shooting at them (5 page account); character killed by gunfire; description of life threatening injuries to an animal.
Sex/Nudity: Girl kisses boy on cheek; 2 characters kiss.
Mature Subject Matter:
Death of parents, animal attacks, paranormal activities, cruelty to animals.
Alcohol / Drug Use:
Adult characters smoke cigar and cigarettes.
Reviewed By Sally