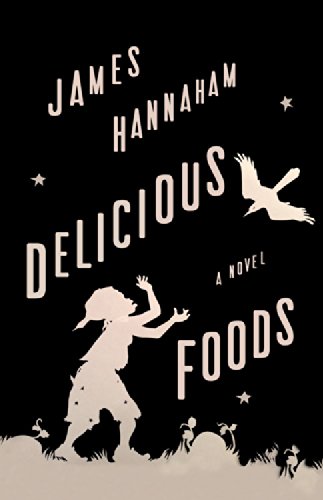 Publisher's Note:
Held captive by her employers--and by her own demons--on a mysterious farm, a widow struggles to reunite with her young son in this uniquely American story of freedom, perseverance, and survival.

Darlene, once an exemplary wife and a loving mother to her young son, Eddie, finds herself devastated by the unforeseen death of her husband. Unable to cope with her grief, she turns to drugs, and quickly forms an addiction. One day she disappears without a trace.

Unbeknownst to eleven-year-old Eddie, now left behind in a panic-stricken search for her, Darlene has been lured away with false promises of a good job and a rosy life. A shady company named Delicious Foods shuttles her to a remote farm, where she is held captive, performing hard labor in the fields to pay off the supposed debt for her food, lodging, and the constant stream of drugs the farm provides to her and the other unfortunates imprisoned there.

In Delicious Foods, James Hannaham tells the gripping story of three unforgettable characters: a mother, her son, and the drug that threatens to destroy them. Through Darlene's haunted struggle to reunite with Eddie, through the efforts of both to triumph over those who would enslave them, and through the irreverent and mischievous voice of the drug that narrates Darlene's travails, Hannaham's daring and shape-shifting prose infuses this harrowing experience with grace and humor.

The desperate circumstances that test the unshakeable bond between this mother and son unfold into myth, and Hannaham's treatment of their ordeal spills over with compassion. Along the way we experience a tale at once contemporary and historical that wrestles with timeless questions of love and freedom, forgiveness and redemption, tenacity and the will to survive.
Delicious Foods: A Novel
by James Hannaham
Overall Review:
I'm not sure what caught my interest about this book. The cover certainly is cool and so is the title, but neither of them really give the reader any idea of what is going to happen between the covers of this book. There is no indication of the sorrow, heartbreak, and addiction that is held within this novel. I know I wasn't expecting any of what I was about to read. I was expecting a book about yummy food, for goodness sakes!
The two main characters of this book are Darlene and Eddie, mother and son; they protect each other. Since the death of his father, it seems as if Eddie has become more of a parent figure to his mother than she is a parent to him. She has become sad, tired, and weak, turning to vices that are unhealthy and are slowly chipping away at her interior resolve. It was apparent that Eddie seemed to know that his mother was falling apart, but perhaps he wasn't aware as to what level.
I want to believe that for most of the time, he was able to keep some of his innocence intact, but his life starts to get more and more difficult. Kids are smart; they can tell when things aren't as they should be. Eddie needs his mother to be there to comfort him during the bad times, but she is never really there. And then, just like that, she's gone and Eddie is left to pick up the pieces of her disappearance.
This book showed me that there is a really dangerous side to the world out there, even if we think everything is safe and that nothing can ever harm us. I'm not sure what type of person I would suggest this book to. It is kind of a mysterious sort of fiction--a thriller in its own unique way. If you do pick it up, be ready to be shocked at what you read!
Content Analysis:
Profanity/Language: 24 religious exclamations; 81 mild obscenities; 34 derogatory names; 193 scatological words; 122 anatomical words; 165 F-Word derivatives.
Violence/Gore: A character is mentioned to be shot in the face; a shooting and strangling occur with no detail; a man threatens a woman physically and verbally; a building is burnt and a character perishes inside; a character is struck by a car and sustains injuries; a man is abused by another man with a shovel in one brief scene, injuries and bruises are mentioned; a rape and murder are mentioned with no detail; a girl is abused when pranks are pulled on her; a woman punches her boyfriend; minors threaten each other verbally; a woman is attacked by a man physically in one brief scene, her money is stolen and several teeth get knocked out; a report of a stabbing is made; a character throws a pie in anger; news of a rock star shooting himself is reported; a character describes an injury of hands being cut off, wrists bleeding, pain.
Sex/Nudity: A brief sex scene occurs between an unmarried adult couple; an affair is mentioned with no detail; an unmarried couple is living together, referred to as "living in sin"; college students are mentioned to make love, some nudity is implied, no explicit detail is given; minors are implied to be sexually active; a woman is referred to as a lesbian; a woman sells herself to men for sex; a minor tries to force sex on a woman; a sexually explicit scene occurs between two men and a woman when she approaches them to sell sex; a man tells his son to "get laid".
Mature Subject Matter:
Personal crises, death, drug addiction, abduction/missing persons, prostitution, death of a parent.
Alcohol / Drug Use:
A woman is described as a drug addict; an adult man smokes; smoking dope is mentioned; a woman referred to as a druggie; whiskey and wine are implied to be drunk; cocaine use is mentioned.
Reviewed By Lydia