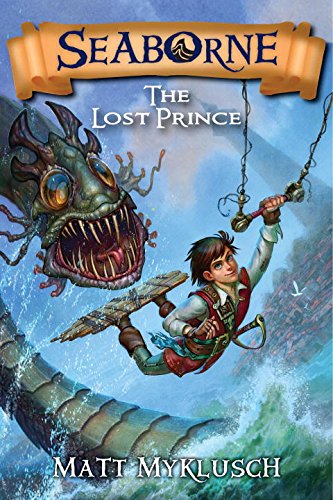 Publisher's Note:
Middle-grade adventure readers will love this fresh take on classic pirate tropes. Fans of Percy Jackson and The Chronicles of Egg will enjoy Dean Seaborne's adventures on the sea.

Dean Seaborne is thrown off his ship by the Pirate King and given one last chance to redeem himself before he meets Davy Jones's locker. He has to spy on the Pirate King's biggest rival, Gentleman Jim Harper, and find the treasure hidden on the mysterious island of Zenhala.

Once on Zenhala, Dean finds that the inhabitants of the island think he is the lost prince who went missing 13 year ago. In order to fulfill his mission for the Pirate King, Dean undergoes intense and fantastical trials to prove he is the lost prince. But the longer Dean stays on the island, the more he questions his mission.
This book was sent to Compass Book Ratings for review by Egmont
The Lost Prince
by Matt Myklusch
Overall Review:
The Lost Prince is a mash-up of classic pirate elements with some hints of Disney's Treasure Planet in the form of sailboards and something that feels a lot like a skateboard. With plentiful action, this is the stuff of Saturday movie matinees and frankly, just written for pure fun. It has the same flavor of adventure and swashbuckling as Rebels of the Kasbah. Although there are a few mythical creatures, the Bermuda Triangle, and a fantastical gold treasure, this is more an adventure story than a fantasy novel. The cast is mostly male, but there is a spunky female character, too. This book clips right along and will engage the young middle grade reader because something is always happening. The book is the first in an intended series that looks to be light and entertaining.
Review of a Digital Advance Review Copy
Content Analysis:
Profanity/Language: 2 religious exclamations; 1 mild obscenity.
Violence/Gore: A few verbal threats, some accompanied by sword or pistol; character confined in cage and dunked into water with dangerous creatures; on several different occasions characters scuffle by kicking, pushing to floor, pushing to wall, tackling, etc.; teenager hit by drunk adult; extended, multi-page chase scene involving throwing items, jumping on characters, etc.; brief, non-detailed take-over of a ship; destruction of property by cannonball, no casualties; character stabs knife into another character's foot, mention of blood; accidental cutting of finger, minor injury; assassination attempt involving struggle, knife, hitting, poking with sharp object, etc.; extended scene (non-detailed) in which mythical creature attempts to eat character involving general banging-up, punching, etc. with minor injuries; character deliberately hit with paddle, mention of blood; report of death and that an individual cut out a character's eye (no description); character slaps another; sounds of battle are heard and signs later observed; implied death of a character; characters struggle with fists, pistols, knocked unconscious; extended, but non-detailed battle scene involving fighting with cutlasses, pistols, clubs, swords, objects; implied death by drowning; mythical creature eats a character, no description.
Sex/Nudity: None
Mature Subject Matter:
Orphans, piracy, spying, death.
Alcohol / Drug Use:
Pirates drink rum.
Reviewed By Cindy