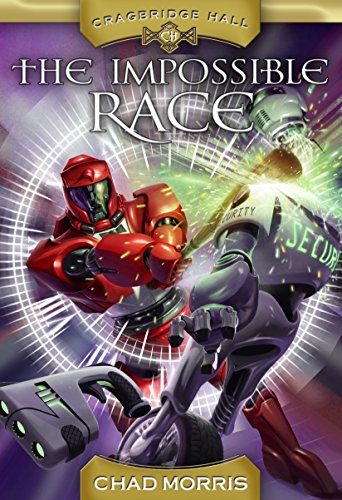 Publisher's Note:
The final book in the trilogy will be eagerly anticipated by fans.
Every year the futuristic school, Cragbridge Hall, holds its most popular tournament-the Race: a series of challenges that require the use of the school's amazing inventions like its holographic time machine! But this year is different. Rather than a monetary or academic reward, this year's winner will be the recipient of a carefully guarded school secret: a secret that could prove both powerful and dangerous.
Afraid that the secret may be one of their Grandfather's inventions, Abby and Derick gather several friends and enroll in the contest. But when Derick gets a mysterious message from the future, the team of friends must figure out how to succeed even when they know they are destined to fail. The stakes have never been higher. A page-turning, time-travel adventure that teaches powerful lessons about choice and consequence, believing in yourself, and valuing the lessons of history.
This book was sent to Compass Book Ratings for review by Shadow Mountain
Cragbridge Hall Book 3: The Impossible Race
by Chad Morris
Overall Review:
The Impossible Race is Chad Morris' exciting conclusion to his Cragbridge Hall series. Morris delivers a fitting finale to a roller coaster ride through time: full of twists and turns, gadgets and gizmos, action and adventure. Interwoven into the intrigue and action are iconic events from history, further exploration of the impact of trials and heroism on humankind, and the timeless lesson that flash and fame will only get your so far--it takes true grit and determination to really win "the Race." The only drawback to the book was that the 'mysterious villain' felt a bit obvious to this reader, but to younger readers it probably wouldn't be. And quite frankly, to even have a mysterious villain at this stage in the story takes quite a bit of ingenuity!
Throughout this series, Morris' ingenuity is instrumental to the success of the plot as it weaves through time in a way both believable and unpredictable. This final book was exciting and surprising right to the end, with a satisfying finish--and even room for future books about Abby, Derick and Cragbridge Hall, much to our delight!
Content Analysis:
Profanity/Language: None
Violence/Gore: Man threatens hostage with gun; scuffle, man thrown across the room; description of people spontaneously disintegrating; character warned of impending death; virtual battles with dinosaurs and various monsters; portrayal of a burning at the stake; virtual experience of a hanging described; characters taken hostage; bomb threat; various characters shot with stun guns and knocked unconscious; robot battle with stun guns, property damage; innocent people attacked with stun guns; battle with robots and soldiers, various non-fatal injuries; explosion, character's questioned death.
Sex/Nudity: Lots of flirtation, mostly as a comic relief.
Mature Subject Matter:
None
Alcohol / Drug Use:
None
Reviewed By Kristen