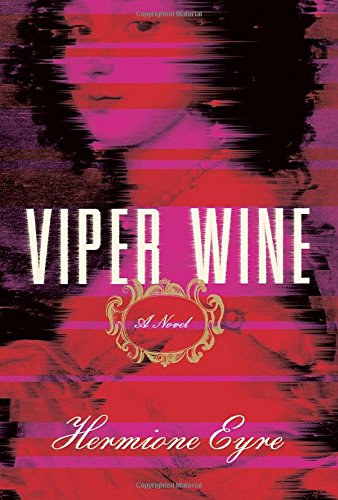 Publisher's Note:
Venetia Stanley was the great beauty of her day, so dazzling she inspired Ben Jonson to poetry and Van Dyck to painting. But now she is married, the adoration to which she has become accustomed has curdled to scrutiny, and she fears her powers are waning. Her devoted husband, Sir Kenelm Digby—explorer, diplomat, philosopher, alchemist— refuses to prepare a beauty tonic for her, insisting on her continued perfection.

Venetia, growing desperate, secretly engages an apothecary to sell her "viper wine"—a strange potion said to bolster the blood and invigorate the skin. The results are instant, glorious, and addictive, and soon the ladies of the court of Charles I are looking unnaturally youthful. But there is a terrible price to be paid, as science clashes with magic, puritans rebel against the decadent monarchy, and England slides into civil war.

Based on real events and written with anachronistic verve, Viper Wine is an intoxicating brew of love, longing and vanity, where the 17th and 21st centuries mix and mingle in the most enchanting and mind-bending ways.
This book was sent to Compass Book Ratings for review by Hogarth
Viper Wine: A Novel
by Hermione Eyre
Overall Review:
Viper Wine is a curious book. Written by first-time novelist Hermione Eyre, the novel is a rare blend of historical fiction and fantasy. The plot revolves around seventeenth century English beauty Venetia Stanley and her quest to retain the looks of her youth. Venetia makes for a fantastic main character, with her desire to do good despite her many inner flaws.
Viper Wine often comes across as tongue-and-cheek, yet the author tries too hard to make her characters witty and clever. Several portions, especially the parts involving Venetia's husband Kenelm and the inclusion of modern elements and times, were incredibly confusing and brought the plot to a standstill. While Viper Wine is unique, it was just too disorienting to really enjoy.
Review of Advance Reader Copy
Content Analysis:
Profanity/Language: 1 religious exclamation, 5 mild obscenities, 6 derogatory names, 1 scatological word and 1 f-word derivative.
Violence/Gore: Numerous secondhand reports of violence involving civil war, execution, stabbings and torture; a few brief scenes of violence when a character bites another and a character fires a gun at another; destruction of property during a fire; a few brief scenes of non-detailed, violent death involving battle, hanging and a shrapnel wound.
Sex/Nudity: A few incidents of kissing; several sexual references regarding homosexuality and prostitution; several implied incidents of sexual activity; a brief incident of touching; a few incidents of sexual activity without explicit detail between adults.
Mature Subject Matter:
Death of family member, execution of family members, gambling and cheating, drug addiction, a secondary character makes several veiled allusions to his homosexuality.
Alcohol / Drug Use:
Characters frequently drink; several characters smoke; a character is addicted to 'viper wine'.
Reviewed By Rachel