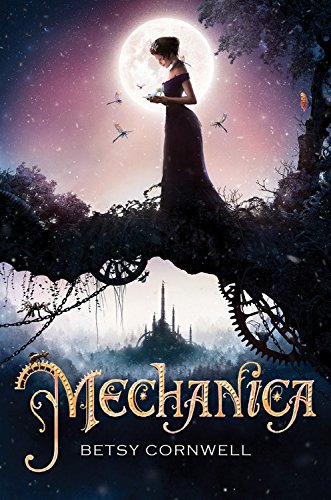 Publisher's Note:
Nicolette's awful stepsisters call her "Mechanica" to demean her, but the nickname fits: she learned to be an inventor at her mother's knee. Her mom is gone now, though, and the Steps have pushed her into a life of dreary servitude. When she discovers a secret workshop in the cellar on her sixteenth birthday—and befriends Jules, a tiny magical metal horse—Nicolette starts to imagine a new life for herself. And the timing may be perfect: There's a technological exposition and a royal ball on the horizon. Determined to invent her own happily-ever-after, Mechanica seeks to wow the prince and eager entrepreneurs alike.
Mechanica
by Betsy Cornwell
Overall Review:
I started reading this book, and immediately I felt like I had been transported back to my early teenage years. This book reminded me so much of Ella Enchanted, a book I read over and over, a book I absolutely adored (until I saw the movie adaptation and almost threw up). If you loved the book Ella Enchanted, or know someone who does, Mechanica is for you! It puts a new spin on the Cinderella story (just what we need, right?)--one that I never would have thought up, but am glad someone did.
Where to begin? First, there is Nicolette; she is the "Cinderella". She lives with her father and mother in this amazing house that has a workshop, and in this workshop, her mother makes these little devices and mechanical bugs that do simple household tasks or are just little companions. Eek! It was like magical steampunk. Then there is the inevitable tragedy, a big hurdle that Nicolette has to overcome. Inventor, servant, stepsister, daughter--Nicolette is all of these, but most of all, she is a fighter. When things get ugly, she doesn't cower in a corner; she stands up and faces her demons head-on.
Although at first it seems as though Nicolette is all alone in the world, she finds two unlikely friends. These two friends play a big part in the book and were just as delightful to read about as Nicolette! Add in an itty bitty toy horse, oil and grime, and a few evil stepsisters, and you have a cast that is as likely to please a 12-year-old as it is an adult. This book was perfect. There is nothing about it I would change. I hope to see more re-tellings of classic fairytales by Betsy Cornwell, as she mesmerized and entertained me completely with this book.
Review of Advance Reader Copy
Content Analysis:
Profanity/Language: 3 religious exclamations; 1 mild obscenity.

Violence/Gore: A character dies from illness; people are mentioned to pass away from a deadly disease; a woman is verbally abusive to her stepdaughter; two girls vandalize their sister's room and belongings; an animal is mentioned to have been killed because of its old age; a minor girl is locked in a room as punishment; a character is reported to have died, no detail is given; a girl slaps another girl, blood is mentioned to bead on the girl's lip; a minor accidentally stabs her finger with a needle, drops of blood are mentioned; an assassin kills a political figure, this is mentioned a few times; a character is mentioned to be dying from a sickness.
Sex/Nudity: Minors kiss several times.
Mature Subject Matter:
Death of a parent, personal crises, war.
Alcohol / Drug Use:
None
Reviewed By Lydia