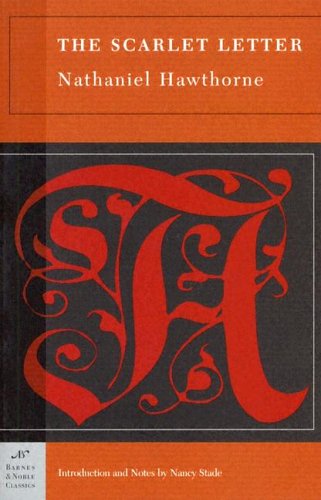 Publisher's Note:
America's first psychological novel, Nathaniel Hawthorne's The Scarlet Letter is a dark tale of love, crime, and revenge set in colonial New England. It revolves around a single, forbidden act of passion that forever alters the lives of three members of a small Puritan community: Hester Prynne, an ardent and fierce woman who bears the punishment of her sin in humble silence; the Reverend Arthur Dimmesdale, a respected public figure who is inwardly tormented by long-hidden guilt; and the malevolent Roger Chillingworth, Hester's husband—a man who seethes with an Ahab-like lust for vengeance.The landscape of this classic novel is uniquely American, but the themes it explores are universal—the nature of sin, guilt, and penitence, the clash between our private and public selves, and the spiritual and psychological cost of living outside society. Constructed with the elegance of a Greek tragedy, The Scarlet Letter brilliantly illuminates the truth that lies deep within the human heart.
This book was sent to Compass Book Ratings for review by Sterling Publishing
The Scarlet Letter
by Nathaniel Hawthorne
Overall Review:
In Nathaniel Hawthorne's classic tale of sin, redemption, and guilt, Hester Prynne is forced by her community to wear a scarlet "A" on her clothing after she is discovered to be pregnant out of wedlock. Although she is repeatedly asked for the name of the man also implicated in her crime, Hester keeps her silence, and retreats to a cottage at the edges of the town to raise her child. The Scarlet Letter is a compelling look at guilt and redemption, and at the role confession plays in repentance. Hawthorne's characters are vivid, and it's easy to picture quiet Hester, her wild daughter Pearl, the anguished minister Arthur Dimmesdale, and the crazed, revenge-driven Roger Chillingsworth. The climax and conclusion are strong and satisfying, and the themes of this novel will leave readers pondering long after they have closed the book! At times, I felt like the story might have worked better as a short story, as there were certainly times where the narrative seemed repetitive. Also, modern readers will find some of the ideas in The Scarlet Letter strange—for example, throughout the story, Hawthorne asserts that Pearl's character is inherently flawed because she was conceived illegitimately—an idea that I found pretty odd! On the whole, however, The Scarlet Letter is a terrific exploration of what it truly means to repent and be redeemed.
Content Analysis:
There is no profanity in The Scarlet Letter (although there are sometimes religious allusions to the devil and similar themes).
Violence in this book is very mild; one character intends obvious malice toward another, and their relationship is very ominous—however, no real violence ever occurs. There are also allusions to one old lady, who is described as a "witch," meeting the devil and his helpers in the forest at night. There are passing allusions to punishments for crimes, but nothing is ever described in detail.
Very mild sexual content consists of the fact that the story itself concerns adultery and a child conceived out of wedlock. Nothing is ever described.
Mature Subject Matter:
Mature themes consist of adultery, sin/guilt, repentance, redemption, illegitimacy, revenge, and certain characters allying themselves with the devil. Although the content is very mild, the general subject matter (adultery) and elevated language of this book makes it best suited for older readers.
Alcohol / Drug Use:
***
Reviewed By CindyB