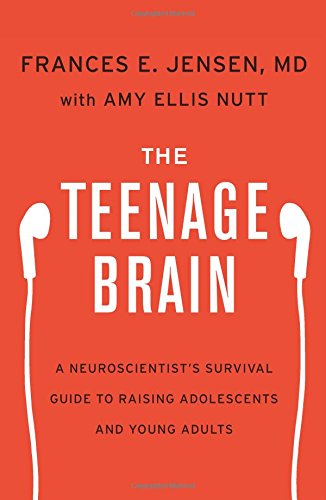 Publisher's Note:
Drawing on her research knowledge and clinical experience, internationally respected neurologist—and mother of two boys—Frances E. Jensen, M.D., offers a revolutionary look at the science of the adolescent brain, providing remarkable insights that translate into practical advice for both parents and teenagers.
Driven by the assumption that brain growth was pretty much complete by the time a child began kindergarten, scientists believed for years that the adolescent brain was essentially an adult one—only with fewer miles on it. Over the last decade, however, the scientific community has learned that the teen years encompass vitally important stages of brain development.
Motivated by her personal experience of parenting two teenage boys, renowned neurologist Dr. Frances E. Jensen gathers what we've discovered about adolescent brain functioning, wiring, and capacity and, in this groundbreaking, accessible book, explains how these eye-opening findings not only dispel commonly held myths about the teenage years, but also yield practical suggestions that will help adults and teenagers negotiate the mysterious world of adolescent neurobiology.
Interweaving clear summary and analysis of research data with anecdotes drawn from her years as a parent, clinician, and public speaker, Dr. Jensen explores adolescent brain functioning and development in the contexts of learning and multitasking, stress and memory, sleep, addiction, and decision-making.
Rigorous yet accessible, warm yet direct, The Teenage Brain sheds new light on the brains—and behaviors—of adolescents and young adults, and analyzes this knowledge to share specific ways in which parents, educators, and even the legal system can help them navigate their way more smoothly into adulthood.
The Teenage Brain: A Neuroscientist's Survival Guide to Raising Adolescents and Young Adults
by Francis E. Jensen with Amy Ellis Nutt
Overall Review:
The Teenage Brain by Frances E. Jensen, MD with Amy Ellis Nutt has much to recommend it. It pulls together Brain Science 101, a little bit of probably Brain Science 201, real-life examples--both personal and public--and the current knowledge on many issues in science today. This is done seamlessly and in a friendly, accessible style. Although many readers will be aware of many of the findings covered, the advantage of this book is that it is all pulled together in one place and well-documented with almost 70 pages of references and indexes. (Some of the graphics and photos did not render particularly well in black and white, but perhaps that will be mended in a future edition.)
This book has probably found its way to the New York Times Best Seller List because of its tagline: A Neuroscientist's Survival Guide to Raising Adolescents and Young Adults. The truth is that there isn't much "survival guide" content in the book. Primarily any advice, comfort, or guidance is from the 10,000 foot level: stay calm, there are neurological reasons for much of teenage behavior, don't give up on your teen, and keep communicating. Many a desperate parent is probably hoping for something a little more detailed, rather than a general philosophy. However, this is a book that will hold the reader's interest and would make a good discussion book for a book club.
As the mother of teenagers, I had the privilege of attending a lecture (not by this author) a few years back on this same topic and the lecture was quite revelatory. Therefore, much of the material in this book covered ground I had been introduced to already, however the chapters on mental health, concussions, and crime/punishment were new to me. This book is recommended for anyone who has a teenager in their life. We love our teenagers so much that we will take any and all insights we can get!
Content Analysis:
Profanity/Language: 1 mild obscenity; 1 scatological word.
Violence/Gore: Report of accidental drowning; report of dissecting pig in science class; report of death of a pet chick; report of a fight between teenage girls; reference to suicide bridge; various separate, brief reports of suicides committed by young people; report of death by drug overdose; report of death due to eating disorder; reports of concussions; reports of deaths from concussions; report of child; non-detailed report of rape; report of a child beaten until eardrums damaged; quoting of criminal statistics; historical report of 12 year old that beat and killed a 6 year old; summary of a youth's criminal activities involving burglary, beating with pipe, holding at gunpoint, individual shot, etc.
Sex/Nudity: In the chapter on "Taking Risks" there are many references to sex; reference to orgasm; clinical statements about what areas of brain control sex drive; summarization of actual event in which 15 year old girl performed oral sex on 5 hockey players at a school; statistics on teenage sex and use of birth control; reference to STDs; summarization of actual event in which a spy camera was used to spy on gay roommate and his activities; summarization of actual event of individual broadcasting images of girl and guy having sex; reference to lewd phone calls; non-detailed reference to rape that occurred.
Mature Subject Matter:
There are chapters on the following subjects: Tobacco, Alcohol, Pot, Hard-Core Drugs, Stress, Mental Illness, Digital Media Issues, Crime & Punishment; child abuse, death.
Alcohol / Drug Use:
There are individual chapters devoted to Tobacco, Alcohol, Pot, Hard-Core Drugs (within the chapters are real-life examples/illustration of adolescent use); it is reported that a parent deliberately took a four year old child to a bar to give him alcohol; references to drugs used to treat mental illnesses.
Reviewed By Cindy