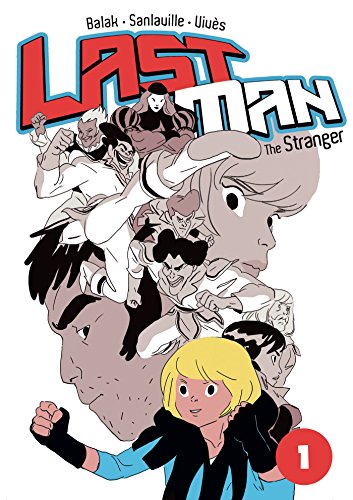 Publisher's Note:
The Games are already underway when Richard Aldana arrives in town. This mysterious stranger seems to have more in common with our world than the world where the Games are held. He smokes cigarettes and wears a leather jacket while everyone else in this medieval realm is casting spells and weaving tapestries. Nobody knows what to make of him, but when Aldana enrolls in the games he quickly becomes a top contender. Eschewing magic and using only his martial arts prowess, Aldana also befriends and protects a small boy for reasons as mysterious as his origins.
Who will win the games? Who is Richard Aldana, really? And what is the ultimate purpose of this gruelling gladiatorial contest?
This book was sent to Compass Book Ratings for review by First Second Books
The Stranger (Last Man #1)
by Bastien Vivès, Michaël Sanlaville, Balak
Overall Review:
Balak, Bastien Vivès, and Michaël Sanlaville are a formidable trio. As an animator, comic creator, and game designer, they come together to prove Japanese manga isn't all there is in the world. French manga is on the rise and their creation of The Stranger (Last Man #1) demonstrates their devotion to the cause. A commendable concoction of a gladiator-style tournament set in a medieval realm with spellbinding fighters (à la mode Avatar: The Last Airbender) this graphic novel is an attractive choice whether you are new to the manga scene or a devoted fan.
Young Adrian Velba and middle-aged ruffian Richard Aldana make an unlikely pairing for the tournament games that are the central focus of the book, but this unordinary cast is exactly what makes for an intriguing punch line, especially when more questions are raised about Richard. Where exactly is he from, and what is he doing at the contest? Interests are piqued and brows are raised as Richard uses his brute force to sweep the competition, while naive Adrian tries to hone his skills as a magician fighter.
Although the protagonist Adrian is an adolescent, seasoned Richard portrays a womanizing tough-guy act that curtails charm and targets a more mature audience chiefly due to the obscenities and his philandering.
In true comic style, the story is told mainly through the illustrations rather than the actual dialogue. Another similarity between this graphic novel and comic books is that it is a series, and each book says adieu with a cliff-hanger that leads up to the next installment.
Content Analysis:
Profanity/Language: 17 mild obscenities; 2 derogatory words; 4 anatomical terms.
Violence/Gore: Depiction of children sparring one another in a karate type class, character is kicked; report of witnessing a friend die from a blow to the head; character tries kicking another character; extended scene (about 4 pages) characters watch a fight; character threatens 2 other characters with violence; extended scene (about 3 pages) characters fight; character is knocked down; character is punched; character threatens another character with physical violence; extended scene (about 4 pages) characters punch and kick one another; many fight scenes of different characters depicted on one page; character takes another character down; character punches and kicks his/her opponent; character violently knocks his/her head against a door 2x; character threatens another character with physical violence; character punches object out of frustration.
Sex/Nudity: Portrayal of a male character in his underwear leaving a bed where a woman lays, image implies she is nude; depictions of male character admiring a female character's cleavage and behind; male character enjoys looking at a female character who is fully clothed but wet; depiction of a female character in her underwear preparing to change; character declares love to another character.
Mature Subject Matter:
Philandering male character, male obsession with a female character, implication of mental illness.
Alcohol / Drug Use:
Character smokes cigarettes; depiction of characters in a bar drinking alcohol.
Reviewed By MaryLou