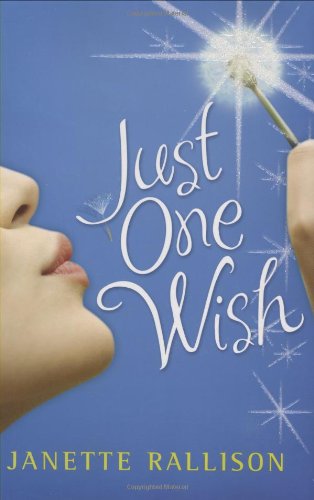 Publisher's Note:
Seventeen-year-old Annika Truman knows about the power of positive thinking. With a little brother who has cancer, it?s all she ever hears about. And in order to help Jeremy, she will go to the ends of the earth (or at least as far as Hollywood) to help him believe he can survive his upcoming surgery.
But Annika?s plan to convince Jeremy that a magic genie will grant him any wish throws her a curveball when he unexpectedly wishes that his television idol would visit him. Annika suddenly fi nds herself in the desperate predicament of getting access to a hunky star actor and convincing him to come home with her. Piece of cake, right?
Janette Rallison?s proven talent for laugh-out-loud humor, teen romance, and deep-hearted storytelling shines in a novel that will have readers laughing and crying at the same time.
Just One Wish
by Janette Rallison
Overall Review:
If you're looking for a quick read with a little romance and a spunky protagonist, look no further. Janette Rallison's Just One Wish fits the bill perfectly. At first glance, the book might seem to be just a light read with no depth, but there are also some more serious subjects that are touched upon. The main character, Annicka, could probably teach most of us a thing or two about determination and selflessness. Readers might find themselves laughing out loud at times and crying at others. While there were some pretty predictable parts, there were also a few things that totally caught me off guard. I won't say everything that happens in the story is realistic or even close to it, but it was an enjoyable story.
Content Analysis:
Profanity/Language: None
Violence/Gore: A few (5) brief incidents including character jokes about fighting; character jokes that a celebrity hasn't vandalized or hit people; actor jokes about letting another actor get killed while filming a show; character jokes about a heart attack and killing another character; mention of murders and gangs.
Sex/Nudity: Several (12) brief incidents including holding hands; hugging; kissing; touching back; hand on knee; innuendo.
Mature Subject Matter:
Cancer.
Alcohol / Drug Use:
Mention of drug dealers; joking that celebrity hasn't been to rehab.
Reviewed By Jenny