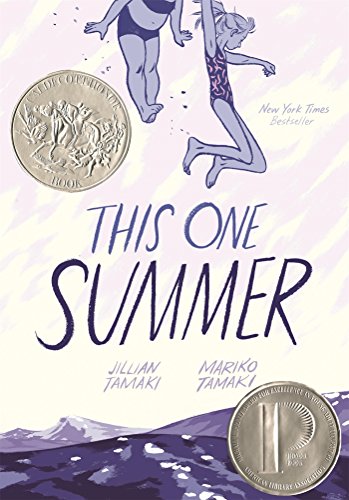 Publisher's Note:
A 2015 Caldecott Honor Book
A 2015 Michael L. Printz Honor Book
Every summer, Rose goes with her mom and dad to a lake house in Awago Beach. It's their getaway, their refuge. Rosie's friend Windy is always there, too, like the little sister she never had. But this summer is different. Rose's mom and dad won't stop fighting, and when Rose and Windy seek a distraction from the drama, they find themselves with a whole new set of problems. One of the local teens - just a couple of years older than Rose and Windy - is caught up in something bad... Something life threatening.
It's a summer of secrets, and sorrow, and growing up, and it's a good thing Rose and Windy have each other.
This One Summer is a tremendously exciting new teen graphic novel from two creators with true literary clout. Cousins Mariko and Jillian Tamaki, the team behind Skim, have collaborated on this gorgeous, heartbreaking, and ultimately hopeful story about a girl on the cusp of childhood - a story of renewal and revelation.
This One Summer
by Mariko Tamaki
Overall Review:
I have heard so much buzz about this book--all of it good. I kept thinking I would run across a copy, but it didn't happen so I bought a copy. Oh my gosh, I wasn't that impressed! I did think this was a good, fast-paced read though. Definitely a great book to get you in the mood for summer!
First, the drawings were great. For a graphic novel, they were just right: not too edgy, but not overly clean cut. They were appealing. Also, the fact that they were clearly in India ink was pleasant and added a unique feel to the book.
I liked how the author seemed to really know teens and teen girls in particular. I can see myself as a teen really being able to relate to the two girls in this books, as they navigate the temptations and storms that come with a summer of independence. They learned a lot in the short time that I was "with" them in the book; I could practically see them becoming more mature as the story progressed. Rosie and Wendy have spent every summer together for as long as they can remember, and they have this special bond that is almost like a sisterhood, and I felt like I was a part of that sisterhood for the duration of the book.
So why should you read this book? Why is it so worth your time? Well, because it is a fun read that can appeal to many age groups, and a book that you will race through to find out what happens in the end. I think this book would be a wonderful one for a mother and daughter to read and discuss together, as it presents some issues that are tough, but that do occur in the teenage years.
Content Analysis:
Profanity/Language: 11 religious exclamations; 1 mild obscenity; 2 religious profanities; 10 derogatory names; 11 scatological words; 4 anatomical terms; 23 F-Word derivatives
Violence/Gore: A teenage girl almost drowns in open water; a woman is mentioned to have been found drowned; two minor girls watch R-rated movies, a few pictures are shown with images of ghosts/scary scenes; a woman is mentioned to miscarry and blood is mentioned.
Sex/Nudity: A boy suspects his girlfriend might be cheating on him; a minor boy is "not getting laid"; a girl refers to a couple of women as lesbians in a non-derogatory way; two minor girls talk about their breasts and their size; girls refer to themselves as sexy; a teen girl is implied to be pregnant; sex is referred to by a group of teen boys; oral sex is mentioned once by minors; minors have a mature discussion about sex.
Mature Subject Matter:
Sexual exploration, death, infidelity, illegal drugs, underage drinking, underage smoking.
Alcohol / Drug Use:
Minors smoke cigarettes; teenage drinking is implied; cocaine is referred to; a minor is mentioned to take acid; adults drink alcohol.
Reviewed By Lydia