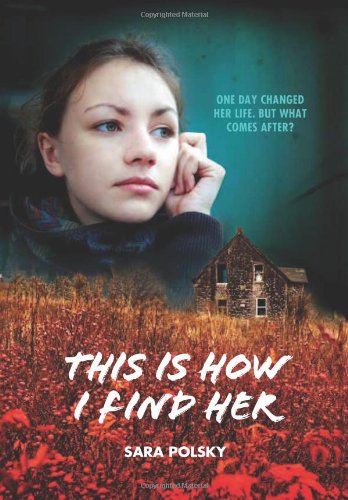 Publisher's Note:
Sophie has always lived her life in the shadow of her mother's bipolar disorder: monitoring medication, making sure the rent is paid, rushing home after school instead of spending time with friends, and keeping secrets from everyone.

But when a suicide attempt lands Sophie's mother in the hospital, Sophie no longer has to watch over her. She moves in with her aunt, uncle, and cousin--a family she's been estranged from for the past five years. Rolling her suitcase across town to her family's house is easy. What's harder is figuring out how to rebuild her life.

And as her mother's release approaches and the old obligations loom, Sophie finds herself torn between her responsibilities toward her mother and her desire to live her own life, Sophie must decide what to do next.
This book was sent to Compass Book Ratings for review by Albert Whitman & Co.
This Is How I Find Her
by Sara Polsky
Overall Review:
Sophie is a junior in high school but has had adult responsibilities most of her life. Her mom is bipolar and frequently forgets her medications. The author begins the novel with her mom's attempted suicide. Sophie has the unfortunate experience of finding her mom on the bed with pills spilled everywhere. It would seem that this was where Sophie's nightmare would begin, but consequently, this is actually where Sophie's life begins to get better. Her mom is put in the hospital and Sophie is taken in by her aunt and uncle. I liked that the author did not make the transition smooth and easy. Sophie has a hard time getting to know her relatives and beginning to think like a teenager again. She has been on her own with her mom so long it is hard for her to adjust to having people around that care about her well-being. She is used to being the one looking out for her mom and herself. Some teenagers will relate to Sophie as they may be the caregiver at home for younger siblings or even parents. The author shows how Sophie eventually breaks down walls she has built up for years.
I wish that the author had gone into more details about bipolar disorder and at least had someone explain to Sophie what the disorder entails. There were symptoms mentioned, but there never was a discussion that fully explained it. It would be hard to totally explain, but for young adult readers at least an overview could have been included.
The author's characters are well-developed and are multi-layered so that teens can relate. I enjoyed the book.
Content Analysis:
Profanity/Language: 1 scatological word; 1 F-word derivative.
Violence/Gore: Character attempts suicide (few details).
Sex/Nudity: None
Mature Subject Matter:
Suicide, bipolar disorder, estranged family, hospital stay, lottery tickets.
Alcohol / Drug Use:
Character overdoses on prescription pills; character is said to be taking lithium; character recalls giving parent meds daily.
Reviewed By Nicole