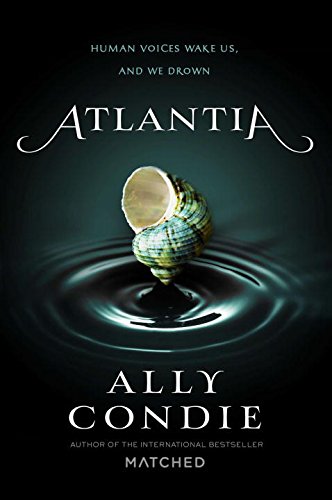 Publisher's Note:
A New York Times Best Seller!

Can you hear Atlantia breathing?

For as long as she can remember, Rio has dreamed of the sand and sky Above—of life beyond her underwater city of Atlantia. But in a single moment, all Rio's hopes for the future are shattered when her twin sister, Bay, makes an unexpected choice, stranding Rio Below. Alone, ripped away from the last person who knew Rio's true self—and the powerful siren voice she has long silenced—she has nothing left to lose.

Guided by a dangerous and unlikely mentor, Rio formulates a plan that leads to increasingly treacherous questions about her mother's death, her own destiny, and the corrupted system constructed to govern the Divide between land and sea. Her life and her city depend on Rio to listen to the voices of the past and to speak long-hidden truths.
Atlantia
by Ally Condie
Overall Review:
Atlantia by Ally Condie was a pleasure to read. Ms. Condie is already the promising author of the Matched trilogy, and she also did well on this book. She mixes dystopian ideas with mystical fantasy, exploring the territory of sirens, which is a fresh take for modern young adult fiction. Mermaids would have been a bit cliche, but sirens are not as commonplace lately. Ally Condie's fans should be excited to pick up this book.
Atlantia is filled with color. The reader can just imagine the descriptions of blue and green beauty and can almost feel a part of the underwater city. The main character is identifiable because she is far from perfect, but she is honest with herself about her imperfections. The plot is twisty in mystery. It is hard to tell who is truly a bad person and who simply has flaws--until the end of the book where everyone's true colors are revealed. Ally Condie keeps her readers guessing in this book, but brings every puzzle piece together at the end in this beautifully written book.
Listening to the audiobook is also a good choice. The reader did a great job demonstrating a difference between a human voice and a siren voice, and did not make the siren voice sound awkward or fake. Definitely pick-up the audiobook if you have a road trip to take.
Content Analysis:
Profanity/Language: None
Violence/Gore: A character talks about a legendary creature that kills people in a mythical way; a character gets a few small electrical burns; characters hear how hundreds of people are drowned or suffocated, brief and non-detailed; almost 30 people are shot and killed, brief and non-detailed; characters see the dead body of a murdered character, brief and non-detailed.
Sex/Nudity: A character says he saw two teens kissing; a pair of teens make out for a short time, caressing in areas not normally covered by bathing suits; two teens kiss a few times throughout the book; teens hold hands a few times.
Mature Subject Matter:
Death of family members, murder, separation of family members, serious illness.
Alcohol / Drug Use:
None
Reviewed By Amber