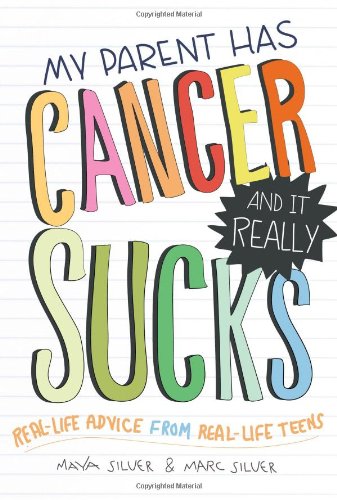 Publisher's Note:
Real-life advice from real-life teens

Currently one million American teenagers live with a parent who is fighting cancer. It's a hard blow for those already navigating high school, preparing for college, and becoming increasingly independent. My Parent Has Cancer and It Really Sucks is the first book written especially for teens to help during this tough time.
Author Maya Silver was 15 when her mom was diagnosed with breast cancer in 2001. She and her dad, Marc, have combined their family's personal experience with advice from dozens of medical professionals and real stories from 100 teens--all going through the same thing Maya did.
In a highly designed, engaging style, this book gives practical guidance that includes:
• how to talk about the diagnosis (and what does diagnosis even mean, anyway?)
• the best outlets for stress (punching a wall is not a great one, but should it happen, there are instructions for a patch job)
• how to deal with friends (especially one the ones with 'pity eyes')
• whether to tell the teachers and guidance counselors and what they should know (how not to get embarrassed in class)
• what happens in a therapy session and how to find a support group if you want one
A special section for parents also gives tips on strategies for sharing the news, making sure your child doesn't become the parent, what to do if the outlook is grim, and tips for how to live life after cancer.
My Parent Has Cancer and It Really Sucks allows teens to see that they are not alone. That no matter how rough things get, they will get through this difficult time. That everything they're feeling is ok. Essays from Gilda Radner's "Gilda's Club" annual contest are an especially poignant and moving testimony of how other teens dealt with their family's situation.
This book was sent to Compass Book Ratings for review by Sourcebooks Fire
My Parent Has Cancer and It Really Sucks
by Maya Silver, Marc Silver
Overall Review:
A well-written, honest approach designed for adolescents dealing with a parent's cancer, My Parent Has Cancer and It Really Sucks, is written by father-daughter duo Maya and Marc Silver.
With inviting typography and a creative format, right away the reader is captured by the composition even before reading a sentence. Once the reader does get to the actual reading part, they will be pleased with the approachable analytical information mixed with real-life accounts making for a good-humored yet straightforward blend that produces a well-balanced narrative.
The chapters seemed to be ordered in progression with the cancer: from the news to the aftermath. Each section is an enlightenment of instruction, advice, and reports given by real-life teens and experts (doctors, therapists, and counselors) to help better prepare teens dealing with a parent's cancer and the situations they'll likely encounter.
As it is stated early on in the book, "ignorance isn't always bliss" and "knowledge is power". Having genuine information is a great way to empower oneself and strengthen one's resolve to handle the eventualities of cancer. Not every chapter or section will resonate with each teen, but that is okay. Everyone is different. What the book does offer is a great gateway into starting a conversation about cancer between parent(s) and child(ren) and some coping mechanisms to help when communication isn't always open. So whether the cancer is treatable or terminal, genetic or exposure, the book is spot-on about one thing--CANCER SUCKS!
Content Analysis:
Profanity/Language: 2 religious exclamations; 3 mild obscenities; 1 derogatory name; 1 scatological word; 3 anatomical terms.
Violence/Gore: A chapter within the book deals with destructive behavior, this includes violence and lashing out; one character recounts a brief encounter with a violent boyfriend; mention of violent video games; character briefly threatens another school mate.
Sex/Nudity: A chapter within the book addresses risky behavior, including "hooking up"; one character tells her story of having a sexual relationship with an adult when she was a teen and getting pregnant; one character mentions they are bi-sexual.
Mature Subject Matter:
Dealing with a parent who has cancer, sickness, death.
Alcohol / Drug Use:
A chapter within the book entitled "Risky Business", focuses on destructive behavior such as using alcohol and drugs; minors within the book admit to alcohol and drug use.
Reviewed By MaryLou