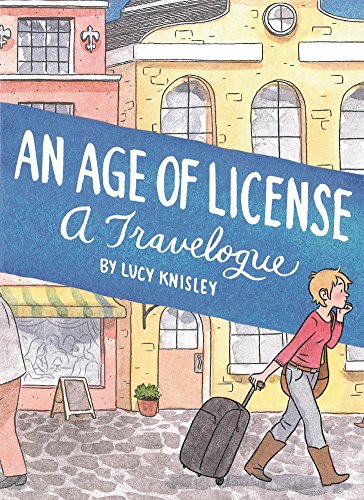 Publisher's Note:
Lucy Knisley's latest food-themed graphic memoir recounts her adventures (some romantic) on a European book tour. Acclaimed cartoonist Lucy Knisley (French Milk, Relish) got an opportunity that most only dream of: a travel-expenses-paid trip to Europe/Scandinavia, thanks to a book tour. An Age of License is Knisley's comics travel memoir recounting her charming (and romantic!) adventures. It's punctuated by whimsical visual devices (such as a "new experiences" funnel); peppered with the cute cats she meets along the way; and, of course, features her hallmark—drawings and descriptions of food that will make your mouth water. But it's not all kittens and raclette crepes: Knisley's experiences are colored by anxieties, introspective self-inquiries, and quotidian revelations—about traveling alone in unfamiliar countries, and about her life and career—that many young adults will relate to. An Age of License—which takes its name from a French saying—is an Eat, Pray, Love for the alternative comics fan. Partial color
An Age of License
by Lucy Knisley
Overall Review:
An Age of License has been likened to Eat, Pray, Love in several reviews, and I agree. Lucy Knisley has written several books about her cooking, eating, and traveling. Having read all of them at this point, I can say that all of them are well worth the read! They are fun and easy to read, and young adults might not be the only ones who relate to what Lucy encounters. In An Age of License Lucy travels to Europe and Scandinavia and finds herself falling in love with not only with the countryside and food, but also with change and new horizons (and maybe a cute Scandinavian boy to boot!).
I don't travel much, so this book was eye-opening to me. I was able to peek over Lucy's shoulder as she flew on planes, went through customs, and ate new and exciting foods. Lucy gives what I think is an accurate description of the area she travels to and the cultures she encounters. She also seems unafraid to tackle issues that she is experiencing at the time the adventure she is on occurred. From dating, to elderly grandparents, to divorce...Lucy Knisley seems to have experienced it all.
An Age of License is a wonderful little book with lots of insight, wisdom, and hilarity. Some might find fault with the accuracy of some of the facts the author presents, but if you don't nit-pick this book, you will find yourself immersed in a story that is a grand adventure!
Content Analysis:
Profanity/Language: 1 religious exclamation; 1 mild obscenity; 1 F-Word derivative.
Violence/Gore: A mass shooting is referred to.
Sex/Nudity: A woman is sexually harassed; a man and woman kiss in a photo; a man and woman kiss a few times; a man and woman who are eating lay together in bed; nudity is depicted in art in a museum; an unmarried adult couple sleep together; a stripper pole is mentioned; elderly men sunbathe nude, a picture of the upper half of their bodies is depicted; sex is referred to several times.
Mature Subject Matter:
Sexuality in art.
Alcohol / Drug Use:
Adults depicted drinking in photos; adults drink wine; adults smoke.
Reviewed By Lydia