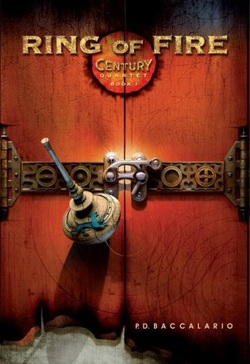 Publisher's Note:
Every hundred years, four kids from four cities must save the world.

Rome, December 29.

A mix-up with their reservations forces Harvey from New York, Mistral from Paris, and Sheng from Shanghai to share a room with the hotel owner's daughter, Elettra. The four kids discover an amazing coincidence—they all have birthdays on February 29, Leap Day. That night, a strange man gives them a briefcase and asks them to take care of it until he returns. Soon afterward, the man is murdered.

The kids open the briefcase. In it they find a series of clues that take them all over Rome, through dusty libraries and dark catacombs, in search of the elusive Ring of Fire, an ancient object so powerful that legend says even a Roman emperor couldn't control it.

In the first book of the Century quartet, Italian author P. D. Baccalario begins a mystery that will take four cities and four extraordinary kids to solve.
This book was sent to Compass Book Ratings for review by Random House
Century #1: Ring of Fire
by P.D. Baccalario
Overall Review:
With non-stop action, clue-chasing, and an exotic location, Ring of Fire feels like National Treasure, The Thief Lord, and The Lightning Thief all rolled into one. This book brings together a distinct cast of four international characters to solve a mystery ignited in Rome. The first in a series that promises to take readers around the globe, Ring of Fire has a 39 Clues-vibe. However, perhaps it would be fairer to say the 39 Clues Series has a Ring of Fire-vibe, since Baccalario's book was published in Italian first. Never predictable, the book has charming touches like the photographic inserts with visuals accompanying the path of clues. The sinister villain, Mr. Mahler, receives high marks for originality. The choice of present tense gives the book a subtle feel of immediacy. Hard-hitting pacing propels the story to a conclusion that has more questions than answers, leaving the reader anxious for the next book. Quite enjoyable, this is one of those series that can hook young readers, female and male alike, with its action and likeable, diverse protagonists.
Content Analysis:
Mild instances of violence included a building collapse resulting in a reported death and some minor injuries to several characters; a character is punched and rendered unconscious; a character is shoved against a wall and slapped; a scuffle between two characters involving punching and tackling results in a character tripping and hitting his head; an explosion. Moderate violence consisted of a brief scene in which a character's throat was slit with a most unusual murder weapon; a scuffle with a security guard in which a character bites another character and a security earpiece is melted while in the guard's ear; a character is shot and other characters encounter blood and the injured person.


Mild profanity was noted nine times.


Although younger readers would probably enjoy this book, the three scenes of moderate violence seemed a bit much for a nine year old. Thus, I recommend it for ages 12+.
Mature Subject Matter:
***
Alcohol / Drug Use:
***
Reviewed By Cindy