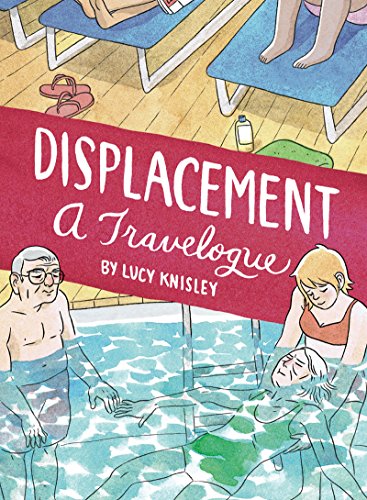 Publisher's Note:
In the latest volume of her graphic travelogue series, New York Times-best selling cartoonist Lucy Knisley must care for her grandparents on a cruise. In her graphic memoirs, New York Times-best selling cartoonist Lucy Knisley paints a warts-and-all portrait of contemporary, twentysomething womanhood, like writer Lena Dunham (Girls). In the next installment of her graphic travelogue series, Displacement, Knisley volunteers to watch over her ailing grandparents on a cruise. (The book's watercolors evoke the ocean that surrounds them.) In a book that is part graphic memoir, part travelogue, and part family history, Knisley not only tries to connect with her grandparents, but to reconcile their younger and older selves. She is aided in her quest by her grandfather's WWII memoir, which is excerpted. Readers will identify with Knisley's frustration, her fears, her compassion, and her attempts to come to terms with mortality, as she copes with the stress of travel complicated by her grandparents' frailty. Full color
Displacement
by Lucy Knisley
Overall Review:
Lucy Knisley has once again left me longing to travel more and see the world. Although in this book she is a bit more restrained in her adventures because she is accompanying her grandparents, that doesn't keep her from leaving them behind to take a nap while she gallivants around the cruise ship. Every time I read one of Lucy's books, I get this craving for travel. It must be a combination of the pretty illustrations she creates, and the way she describes her surroundings. Not everything in her books is perfect, but in the end it sure seems that way.
All of Ms. Knisley's books are perfect for both young adults, and adults to read to learn more about travel, escape their everyday lives, or just have a fun reading adventure. I've always been a little bit in love with the idea of a vacation on a cruise ship, so this book might have been my favorite of Lucy's so far. My least favorite part of this book was probably when Lucy's grandfather shares his stories of war and his life before he was married. Those little snippets just didn't hold my attention like the rest of the book.
In the end, it doesn't really matter why you choose to read this book. Just do it. It's short enough that it won't take much time at all to whip through it, and you just might learn something--whether it is how to take care of aging grandparents, how to travel smartly, or how to appreciate a graphic novel.
Content Analysis:
Profanity/Language: 4 religious exclamations; 1 mild obscenity; 1 scatological words; 1 anatomical term; 4 F-Word derivatives.
Violence/Gore: War is referred to; a man is mentioned to have been killed in a war overseas; suicide is mentioned in a brief scene; war horrors are described in brief detail; a frozen dead man is mentioned to have been discovered; starving war victims are referred to.
Sex/Nudity: A young child is depicted nude in a photograph; Playboy magazines are mentioned with no detail; a "passionate love affair" is referred to.
Mature Subject Matter:
War, death.
Alcohol / Drug Use:
Adults drink alcohol.
Reviewed By Lydia