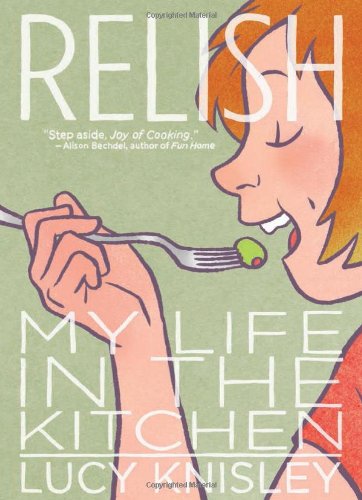 Publisher's Note:
Lucy Knisley loves food. The daughter of a chef and a gourmet, this talented young cartoonist comes by her obsession honestly. In her forthright, thoughtful, and funny memoir, Lucy traces key episodes in her life thus far, framed by what she was eating at the time and lessons learned about food, cooking, and life. Each chapter is bookended with an illustrated recipe—many of them treasured family dishes, and a few of them Lucy's original inventions.
A welcome read for anyone who ever felt more passion for a sandwich than is strictly speaking proper, Relish is a graphic novel for our time: it invites the reader to celebrate food as a connection to our bodies and a connection to the earth, rather than an enemy, a compulsion, or a consumer product.
A Publishers Weekly Best Children's Book of 2013
An NPR Best Book of 2013
Relish: My Life in the Kitchen
by Lucy Knisley
Overall Review:
I have read so many good things about this book, and I have been waiting for a chance to read it for what seems like ages. So I might have had high expectations about this graphic novel, but I wasn't disappointed. Lucy Knisley draws and writes just as if she is doing it for her own pleasure. I loved the simple pictures that were actually quite true-to-life. This book was an interesting read, but it left me a bit confused. I can see how it would appeal to 10-year-olds because of the graphic novel part, but there were several times while I was reading it that I thought I wouldn't let my child read it, if I were a mother.
Despite some of the more mature content, this book was pretty juvenile otherwise. It tells the account of Lucy Knisley herself, who, from childhood was immersed in the world of food and cooking--actually, from before birth, as her mother worked as a chef while she was pregnant with her daughter. As Lucy grew up, she discovered her hunger for wild and exotic foods, and her mother helped to fill that void in her daughter's rumbling stomach. I am not a very adventurous reader, so it was fun for me to live vicariously through Lucy and her food adventures.
Not only does Relish tell the story of a girl who loves food and loves eating, it also makes it possible for the reader to explore new foods. Recipes are included at the end of each chapter, and they, too, are illustrated. Lucy shares a lot of information about food, and she sure knows how to draw--both humans and edibles! Bon Appetit!
Content Analysis:
Profanity/Language: 1 religious exclamation; a curse word is implied with symbols in a picture.
Violence/Gore: A bloody leg of an animal is depicted in one drawing; a man makes threats with a rifle; a girl is mentioned to be stung all over by bees; a picture of a girl getting her first period is shown, some blood is on her underwear.
Sex/Nudity: A minor purchases porn magazines in a foreign country; a minor looks at porn magazines, the magazines with some crude drawings on the covers are pictured several times; nude paintings are depicted twice; a picture of a girl getting her first period is shown, some blood is on her underwear.
Mature Subject Matter:
Divorce, sexual identity.
Alcohol / Drug Use:
Minors are implied to drink whisky; minors are implied to smoke cigars; a man takes a minor to a wine bar; a drug addict is mentioned.
Reviewed By Lydia