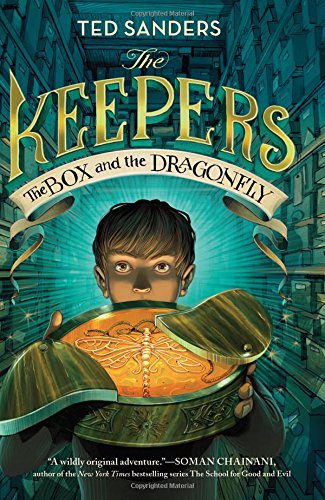 Publisher's Note:
Artifacts. Miseries. Mysteries . . .

From the moment Horace F. Andrews sees the sign from the bus--a sign with his own name on it--everything changes. The sighting leads him underground to the House of Answers, a hidden warehouse brimming with peculiar devices. But there he finds only questions. What is this curious place? Who are the strange, secretive people who entrust him with a rare and immensely powerful gift? And what is he to do with it?

As he works to master his newfound abilities, Horace quickly discovers that nothing is ordinary anymore. From the sinister thin man lurking around every corner to his encounters with Chloe--a girl who has an astonishing talent of her own--Horace follows a path that puts him in the middle of a centuries-old conflict between two mysterious factions.

Horace's journey leads him and Chloe deep into a place where every decision they make could have disastrous consequences. Most important, it links Horace to the Box of Promises and a future he never saw coming.

With an action-packed blend of fantasy and science fiction, Ted Sanders creates a world where everything is more than it seems and where friendship and loyalty have the greatest power of all.
This book was sent to Compass Book Ratings for review by HarperCollins Publishing
The Keepers: The Box and the Dragonfly
by Ted Sanders
Overall Review:
The Box and the Dragonfly by Ted Sanders is an ambitious middle grade fantasy that is complex, creative, cryptic, and at times slightly confounding; anytime an author starts tampering with time it is practically issuing an engraved invitation to inconsistencies. The acidic Chloe and the rather bland Horace make an unlikely pair, and their friendship and fierce loyalty to each other is slightly mysterious. Mr. Sanders doesn't fill in a lot of blanks regarding many characters or motivations, and the book ends with a surprise revelation. It is assumed that this is all part of the master plan, as this book is the first in a planned series. This novel has a unique bent and all-in-all, fantasy fans will enjoy this book and the wonderful items with fantastic powers. Readers at the younger end of the age scale will need to have a little patience with the sections on logic, time, and the future as the characters try to work things out.
Review was of an Advance Review Copy
Content Analysis:
Profanity/Language: 26 religious exclamations; 13 mild obscenities; 2 scatological terms; 1 offensive hand gesture.
Violence/Gore: Character is chased and frightened; character shows many scars received from doing magical thing; characters pursued by mythical creature which "bites" and attempts to destroy them, injuries result; character falls hits head, scrapes leg, bleeds; destruction of property by fire; magical item destroyed; character describes frightening experience of being trapped in a fire; report of a kidnapping/hostage; mythical creature and characters chase, grab, struggle, kick, etc.; character bangs head and bleeds; sounds heard implying harm to a character from a mythical creature; characters confined against their will; 2-3 page scene where characters struggle, choke--physically & magically--enduring injury and pain.
Sex/Nudity: Parents kiss; reference/jest regarding groping.
Mature Subject Matter:
Stealing, lying, absent parent, alcoholic parent, parental neglect.
Alcohol / Drug Use:
Child's father is said to be a drunk.
Reviewed By Cindy