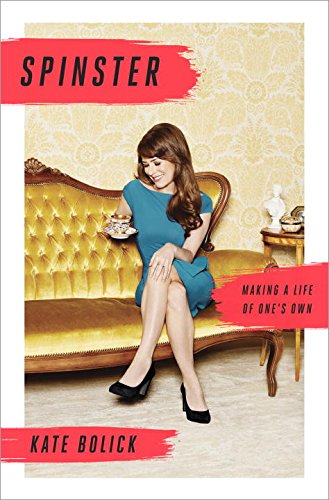 Publisher's Note:
A bold, original, moving book that will inspire fanatical devotion and ignite debate.

"Whom to marry, and when will it happen—these two questions define every woman's existence." So begins Spinster, a revelatory and slyly erudite look at the pleasures and possibilities of remaining single. Using her own experiences as a starting point, journalist and cultural critic Kate Bolick invites us into her carefully considered, passionately lived life, weaving together the past and present to examine why­ she—along with over 100 million American women, whose ranks keep growing—remains unmarried.

This unprecedented demographic shift, Bolick explains, is the logical outcome of hundreds of years of change that has neither been fully understood, nor appreciated. Spinster introduces a cast of pioneering women from the last century whose genius, tenacity, and flair for drama have emboldened Bolick to fashion her life on her own terms: columnist Neith Boyce, essayist Maeve Brennan, social visionary Charlotte Perkins Gilman, poet Edna St. Vincent Millay, and novelist Edith Wharton. By animating their unconventional ideas and choices, Bolick shows us that contemporary debates about settling down, and having it all, are timeless—the crucible upon which all thoughtful women have tried for centuries to forge a good life.

Intellectually substantial and deeply personal, Spinster is both an unreservedly inquisitive memoir and a broader cultural exploration that asks us to acknowledge the opportunities within ourselves to live authentically. Bolick offers us a way back into our own lives—a chance to see those splendid years when we were young and unencumbered, or middle-aged and finally left to our own devices, for what they really are: unbounded and our own to savor.
Spinster: Making a Life of One's Own
by Kate Bolick
Overall Review:
The word "spinster"...what image does it conjure in your mind's eye? A wrinkled old woman? For me, it is a spool of thread, or a spindle. It turns out my imagination wasn't far from reality, as the word spinster used to mean "a woman who spins". Nowadays though, it is applied to an "old maid", or a woman who is older than the typical marrying age. But what is the usual age of matrimony for a woman? In some cultures it is in the early teens, and in others, it is pretty much any age above 20.
No, Spinster is not a book about the history of unmarried women, though it does touch on the subject often. Rather, it is a book of lament, and the majority of it is spent focusing on the author and how she feels about herself, and other women who are single. I am coming up on one year of marriage so at first I wasn't sure how much I would get out of this book. I could relate with a lot of what the author said--how being single doesn't always have to be lonely, and sometimes it can be exactly what we need. The world tells us we need to have a man by our side, but do we really?
It is up to everyone to form their own answer. After all, everyone is unique and will feel differently about being single, or having a companion. A lot of this book was spent looking at the lives of women that the author admired--women from the past who were feminists in a time when men and women were not equals. These parts were quite boring and a bit long-winded. Spinster would have been much more appealing had it been more of a biography, and not a history of the spinster.
Review of Advance Reader Copy
Content Analysis:
Profanity/Language: 2 religious exclamations;1 scatological word;1 anatomical term; 1 F-Word derivative.
Violence/Gore: A dead body is mentioned to be found in an apartment, it is described as being smelly; a person is mentioned to have committed suicide by chloroform; death threats are made; a person is mentioned to have died of natural causes.
Sex/Nudity: Homosexuality is referred to in a few instances; sex is referred to multiple times; adults kiss several times; a woman is mentioned to sleep with multiple partners/lovers; woman refers to herself as "not a sexual being"; a woman is mentioned to cheat on her boyfriend; a woman mentions losing her virginity; a woman undresses erotically for a man in one brief scene with little description; a woman is mentioned to swim nude, no description is given; an adulterous mistress is referred to; sexual exploration, being comfortable sexually, is mentioned and discussed; minors are mentioned to be sexually active with no explicit detail in one part of this book.
Mature Subject Matter:
Death, sexual exploration, cancer, poverty, divorce.
Alcohol / Drug Use:
Adults drink alcohol in several instances; adults smoke.
Reviewed By Lydia