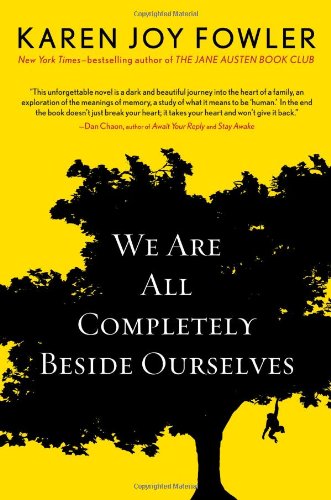 Publisher's Note:
Named a Best of 2013 pick by: The New York Times Book Review, Slate, Newsday, Chicago Tribune, San Jose Mercury News, The Christian Science Monitor, Library Journal, and BookPage

"I thought this was a gripping, big-hearted book . . . through the tender voice of her protagonist, Fowler has a lot to say about family, memory, language, science, and indeed the question of what constitutes a human being."--Khaled Hosseini

From the New York Times–bestselling author of The Jane Austen Book Club, the story of an American family, middle class in middle America, ordinary in every way but one. But that exception is the beating heart of this extraordinary novel.

Meet the Cooke family: Mother and Dad, brother Lowell, sister Fern, and our narrator, Rosemary, who begins her story in the middle. She has her reasons. "I spent the first eighteen years of my life defined by this one fact: that I was raised with a chimpanzee," she tells us. "It's never going to be the first thing I share with someone. I tell you Fern was a chimp and already you aren't thinking of her as my sister. But until Fern's expulsion, I'd scarcely known a moment alone. She was my twin, my funhouse mirror, my whirlwind other half, and I loved her as a sister."

Rosemary was not yet six when Fern was removed. Over the years, she's managed to block a lot of memories. She's smart, vulnerable, innocent, and culpable. With some guile, she guides us through the darkness, penetrating secrets and unearthing memories, leading us deeper into the mystery she has dangled before us from the start. Stripping off the protective masks that have hidden truths too painful to acknowledge, in the end, "Rosemary" truly is for remembrance.
We Are All Completely Beside Ourselves
by Karen Joy Fowler
Overall Review:
Many books have a simple plot and a group of characters who are often a close-knit family. Yet, we readers still drool over the next book to be published--somehow we are mesmerized by the same thing over and over. (TV shows are like this, too.) The same basic idea, but then the writer adds little twists and turns to make things different. Karen Joy Fowler takes this one step further in We Are All Completely Beside Ourselves; she doesn't just have the close-knit family--she also throws in a funny and interesting character by the name of Fern.
Fern is a sister, a playmate, a friend. She is beloved. She is Rosemary's twin. Rosemary is all of the above, and she is also grieving because Fern is no longer a part of Rosemary's life. This has not only turned Rosemary's life upside-down, but it has also changed the whole dynamic of the Cooke family. Lowell, the older brother is lashing out in ways that scare Rosemary. Their parents are secretive and quiet; they don't want to talk much about Fern. So, Rosemary gives us her account of what went down, and how. Thus, we have a book that is not your typical novel. Nope, this book is one surprise after the other.
Some books are good from the get-go. Others take a little time to get into and appreciate. I chalk this up to the authors writing style, or the mood I am in, or a combination of both. This book was one that pulled me in from the beginning. I didn't want to put it down. I felt like I was somehow a part of the Cooke family. I mourned when they mourned, I was happy when they were happy...you get the picture. This book was a rollercoaster of emotions, but it is worth it. Don't miss it!
Content Analysis:
Profanity/Language: 2 religious exclamations; 7 mild obscenities; 3 religious profanities; 3 derogatory names; 12 scatological words; 4 anatomical terms; 1 offensive hand gesture; 24 F-Word derivatives.
Violence/Gore: Natural disasters are referred to; a group of people are mentioned to commit mass suicide; a woman breaks dishes in anger, throws a spoon at a man's head; a character is charged for assault; a girl reports climbing a tree and falling from it; a woman is mentioned to be killed by her boyfriend; a minor throws a snowball at a girl and injures her; a young character disappears, runs away; a sister is sent away from home and her siblings are confused; a father is portrayed as verbally abusive; a pet is mentioned to die; a house is damaged during a party; arson is mentioned and a minor is accused of burning a public building; verbal threats are made; a building is mentioned to be burnt in protest to a controversial cause; animal abuse is mentioned with some brief detail; a chimpanzee is mentioned to kill some kittens in one briefly violent scene.
Sex/Nudity: A mature discussion about sex is had; rape is mentioned in no detail; a woman is described as being "trussed up" in bed for sex; characters referred to as "sexy"; a couple is mentioned to sleep together; a girl recalls hearing her parents have sex; a man is referred to as "seeming kind of gay"; a father makes his daughter touch him in a sexual way in one brief scene; a woman sleeps with a much older man in one brief mention; a woman talks about her first sexual experience; sexual habits are briefly discussed; adults kiss.
Mature Subject Matter:
Death, sexual abuse, personal crises, animal abuse.
Alcohol / Drug Use:
A man is mentioned to chain smoke; adults drink alcohol; a group of adults drink at a bar; minors smoke cigarettes; a woman is mentioned to have used drugs; minors use drugs and drink at a party.
Reviewed By Lydia