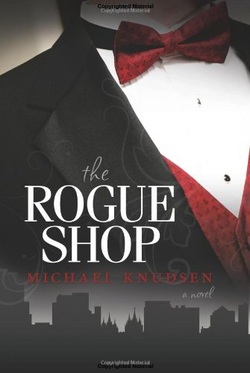 Publisher's Note:
Promising his aunt to avoid all Mormons, Chris Kerry came to Utah to get an education -- and nothing else. But with the help of some friendly neighbors and eccentric coworkers, Chris uncovers a truth that stitches together his lost heritage in a way he never imagined. This hilarious, moving novel illuminates how we recognize truth even in the most trying of circumstances.
This book was sent to Compass Book Ratings for review by Cedar Fort
The Rogue Shop
by Michale Knudsen
Overall Review:
"The Rogue Shop" is a fantastic fiction novel aimed at members of The Church of Jesus Christ of Latter-day Saints. The storyline is incredibly engaging—a little drama, a little romance, a little mystery, a little religion—and the author's refreshingly witty writing style carries the story all the way through. Once I started reading I hated to put it down! Knudsen's characterization is fun, spot on, and darn right inspirational."The Rogue Shop" should be the new precedent of LDS fiction.What a great read!
Content Analysis:
"The Rogue Shop" is an overall clean read. There's only one swear word (used in jest), and only one violent scene which involves a weapon but no casualties.
One character does recount a car accident in which someone is taken in an ambulance, but there are no graphic details to give. A few times, characters discuss the possibility of a previous rape occurrence.
Mature Subject Matter:
I would recommend this book for age 14+ only because there is some mature subject matter.
Alcohol / Drug Use:
Also a character is haunted by his past as an alcoholic, detailing an episode of drunkenness followed by its deadly ramifications.
Reviewed By SqueakyCleanReads