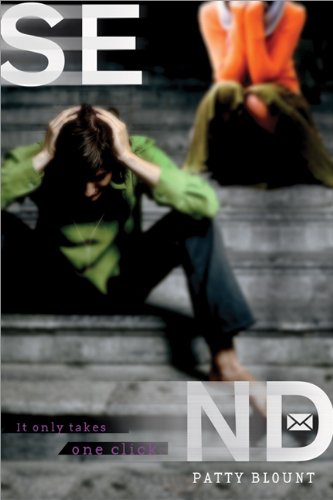 Publisher's Note:
It's been five years since I clicked Send.
Four years since I got out of juvie.
Three months since I changed my name.
Two minutes since I met Julie.
A second to change my life.
All Dan wants for his senior year is to be invisible. This is his last chance at a semi–normal life. Nobody here knows who he is. Or what he's done. But on his first day at school, instead of turning away like everyone else, Dan breaks up a fight. Because Dan knows what it's like to be terrorized by a bully—he used to be one.
Now the whole school thinks he's some kind of hero—except Julie. She looks at him like she knows he has a secret. Like she knows his name isn't really Daniel...
This book was sent to Compass Book Ratings for review by Sourcebooks Fire
Send
by Patty Blount
Overall Review:
An emotionally raw and heartfelt book, Send by Patty Blount was the author's young adult debut novel in 2012. Years later, the book still rings true and opens up an authentic discourse about bullying and living in the age of the Internet. The affinity for this book about bullying is that we've all been there--as the oppressor, as the victim, and even as the observer. The bitter truth is that bullying doesn't retire as we move past the walls of the classroom, but is a continuous contagion that one must encounter at every age level.
Brimming with intense subject matter, the main focus is on protagonist Dan aka Kenny and his battle of self-redemption. Told through Dan's point of view, this character is sincerely authentic and will connect to the reader who struggles with self-deprecating thoughts or has experienced emotional turmoil/upheaval. The inner dialogue Dan has is freshly engaging and yet disturbing at the same time. The thick weight of matters never diminishes, but in relief, is lightened by the sweet depictions of Dan's family and their attempt to understand, love, and support. Dan's not the only character whose past haunts them and who is presently dealing with heavy emotional baggage. The rest of the cast is a great representation of how those who prey and those who are preyed upon can both be silent sufferers.
Send, is burdened with rough language. Sadly, this usage is spot on when it comes to the portrayal of most teens' communications. Walk into any middle school or high school and one will be accosted by similar expressions. However, the onslaught of obscenities muddied the otherwise clear enjoyment this reviewer was having while reading.
The book is layered in irony, but the ending, which may be considered a "twist", is a bitter conclusion that is both a gripping and satisfying play to how Send materialized--the unwritten past that leads into the opening scene.
A formidable novel that is both thought-provoking and entertaining, author Patty Blount's talent abounds in her portrayal of teens living life in the digital age, and the problems that can abound.
Content Analysis:
Profanity/Language: 75 religious exclamations; 125 mild obscenities; 8 religious profanities; 7 derogatory names; 33 scatological words; 47 anatomical terms; 2 offensive hand gestures; 18 F-word derivatives.
Violence/Gore: Character witnesses another character being verbally and physically bullied; character believes they are responsible for another character's suicide- this is mentioned several times (about 20) throughout the novel; character is punched; brief report that a character has received threats; character reports being brutally attacked while incarcerated, this incident is referred to often, described in detail about 2x; extended scene (about 1 page) mild altercation between characters, grabbing, pushing, shoving, exchange of threats; comical brief scene character hits his/her head; brief report of a character being threatened and almost being choked by another character; character recalls his/her house being vandalized, being hit in the head, and threatened by people who were once his/her friends; report of character being violent towards family members while inebriated; character rescues a child from being run over by a vehicle, mention of scraped knee; character reports acts of bullying another character must deal with; character admits to self-mutilating in the past; character threatens to beat up another character; report of threat; character reveals their sibling committed suicide; character aggressively grabs character's shoulder causing pain; report of character receiving threats via social media; parent briefly slaps their teenager; character recalls an incident in which they are violently hit by their parent; character describes what it's like to find someone dead from hanging themselves (suicide); extended scene (about 1 page) character recalls being a soldier during wartime having to kill others, witnessing his/her friend be shot dead; character accidentally cuts hand, blood mentioned; character has a brief thought that they would like to kill another character; character briefly contemplates suicide by drowning; extended scene (about 1 page) characters reference a few reports of violence while discussing the Good Samaritan Law; brief report of character's sibling being bullied/teased at school; extended scene (about 2 pages); characters briefly discuss thoughts of violence they've had against others as revenge for the hurt they've endured; character threatens another character with a gun, attempted murder; character hits his/her head repeatedly in a violent action; extended scene (about 2 pages) character is viciously hit and kicked, threatened with a gun, and shot in attempted murder; brief description of character's injuries after altercation.
Sex/Nudity: Male character has a brief thought about kissing a female character; a few mentions of a character having to register as a sex offender after being convicted for the distribution of child pornography; female character kisses male on cheek; female takes males hand as an act of comfort; male characters are teased a few times that they homosexuals (they are not); extended descriptive scene (about 1 page) male and female kiss; male and female hug, male kisses female on head; male and female hold hands; extended descriptive scene (about 1 page) male and female kiss and touch/caress, male grabs females behind; sexual words/terms such as "the talk, "get in pants", and "be safe" are used; female and male briefly hold hands and kiss (about 3x); extended scene (about 2 pages) male and female kiss, touch/caress one another on areas normally covered by a bathing suit, male asks female if they are "ready", female removes male's shirt, male character is glad he has a condom; implication that characters had sex, male and female get dressed "after," nudity with sexual innuendo; character admits to sleeping (sex) with another character.
Mature Subject Matter:
Death of loved one, bullying (cyber, physical, verbal), adolescent suicide, juvenile incarceration and delinquency, mental illness/emotional instability.
Alcohol / Drug Use:
In a classroom setting the topic of the legalization of marijuana is mentioned; minor discloses that he/she was an alcoholic ; minor admits to the abuse of drugs and alcohol in the past; class debate about smoking; mention of a relation being a recovering alcoholic; character admits to using their parent's medical marijuana.
Reviewed By MaryLou