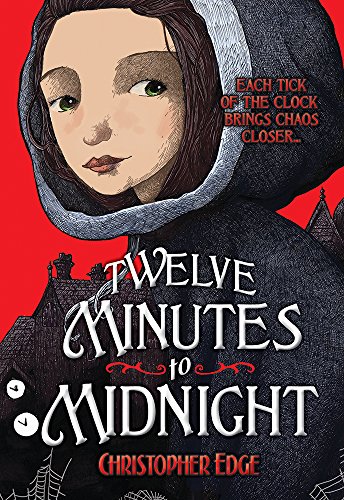 Publisher's Note:
Penelope Tredwell is the feisty thirteen-year-old orphan heiress of Victorian Britain's bestselling magazine, the Penny Dreadful. Her spine-chilling tales--concealed under the pen name Montgomery Finch--are gripping the public. One day she receives a letter from the governor of the Bedlam madhouse requesting Finch's help to investigate the asylum's strange goings-on. Every night at precisely twelve minutes to midnight, the inmates all begin feverishly writing-incoherent ramblings that Penelope quickly realizes are frightening visions of the century to come. But what is causing this phenomenon? In the first book of this smart new series, Penelope is drawn into a thrilling mystery more terrifying than anything she could ever imagine!
This book was sent to Compass Book Ratings for review by Albert Whitman & Co.
Twelve Minutes to Midnight
by Christopher Edge
Overall Review:
A macabre mystery at its finest, Twelve Minutes to Midnight by Christopher Edge is the first book in the Penelope Tredwell Chronicles. Throughout, Edge manages to achieve the perfect combination of age appropriate intrigue and horror, while remaining true to its old-fashioned, Penny Dreadful style. The plot twists, turns, and is downright creepy at time--in the best possible sense.
The highlight of the book is the main character, Penelope Tredwell herself. Penny is a bright, plucky and tenacious young girl. Not only has she made the magazine she inherited into a success through her brain and talents, but she fearless accepts any challenge and is fiercely loyal. Penny has a surprising depth for one so young and holds her own in the male-dominated world of the 1900's.
The imagery and language that Edge employs paints a beautiful picture throughout the story. Though set in London at the turn of the last century, the story remains easily accessible to younger audiences. Twelve Minutes to Midnight is a charming thriller that will have any young reader racing to find out whodunit?
Content Analysis:
Language/Profanity: 1 religious exclamation; 1 mild obscenity.
Violence/Gore: A few references to death (as part of a book reading); a few secondhand reports of death; non-descriptive reference to outdated medical practices (leeches and bleeding); people injure themselves writing on walls; adult attacks another adult; adults force adult into a straight jacket; many non-detailed references to violent world events; adult twists adolescent's wrist; adult pushes another adult; a few references to dead animals/insects (in scientific context); a few instances of characters being bitten by spiders; adult chokes an adolescent; secondhand report of fire; adolescent slaps adult; adult threatens to whip other adult; adult holds adolescent at gun point; adult shoots at adolescent; adolescent pushed shelf onto adult.
Sex/Nudity: Reference to a "half-naked" man.
Mature Subject Matter:
Death, gender equality, illegal activities, mental disability.
Alcohol / Drug Use:
Adults drinking, occasionally to intoxication; adult drugs other adults.
Reviewed By Amberle