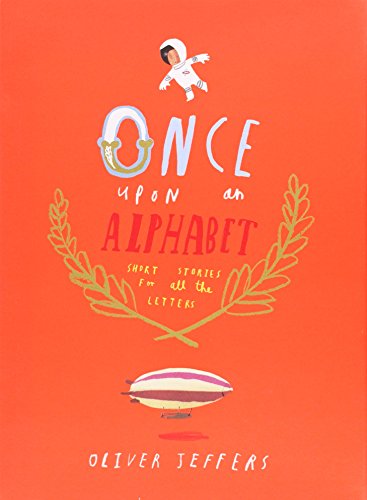 Publisher's Note:
THE alphabet book to top all others, from the illustrator of the #1 New York Times bestselling The Day the Crayons Quit!

If words make up the stories and letters make up the words, then stories are made up of letters. In this menagerie we have stories made of words, made FOR all the letters.

The most inventive and irresistible book of the year spans a mere 26 letters (don't they all!) and 112 pages. From an Astronaut who's afraid of heights, to a Bridge that ends up burned between friends, to a Cup stuck in a cupboard and longing for freedom, Once Upon an Alphabet is a creative tour de force from A through Z. Slyly funny in a way kids can't resist, and gorgeously illustrated in a way readers of all ages will pour over, this series of interconnected stories and characters explores the alphabet in a way that will forever raise the bar.

In Once Upon an Alphabet, #1 New York Times bestseller Oliver Jeffers has created a stunning collection of words and artwork that is a story book, alphabet book, and gorgeously designed art book all in one.
Once Upon an Alphabet: Short Stories For All the Letters
by Oliver Jeffers
Overall Review:
Oliver Jeffers has always written the oddest and most interesting children's books. Perhaps one of the most unusual aspects about his books is the art he comes up with. Not only an author, Jeffers is also a brilliant illustrator. Writing and illustrating your own books must be fun, or at least Jeffers makes it look that way. The pictures in this book are bright and silly, almost as if he was just messing around with some colored pencils and then decided to write a story to go along with them.
One thing that took me by surprise is the little bit of violence going on. This is a book that tells the story of all of the letters of the alphabet, as if the alphabet were alive and breathing. A is an astronaut, for example. Some of the letters have happy, humorous lives, but some of them meet not so pleasant circumstances. I have a little brother, and it doesn't take much to make his 4-year-old self scared. Amazon recommends this book for children ages 3-5, but some of the words and pictures might be a little mature for a 3-year-old. Parents might want to consider their child's maturity and comfort level when choosing this book. However, if you get past those tiny parts of scariness, the story is adorable, and the pictures are equally cute. I am an adult and I loved it!
Content Analysis:
Profanity/Language: None
Violence/Gore: A bridge is burned; a cup falls from a shelf and breaks; a house is partially destroyed in a storm and a woman is implied to die; a man is struck by lightning; a character "comes to a tragic end"; a skeleton is depicted.
Sex/Nudity: None
Mature Subject Matter:
Death.
Alcohol / Drug Use:
None
Reviewed By Lydia