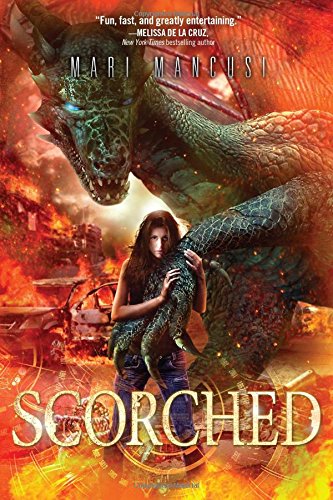 Publisher's Note:
Save the Dragon. Destroy the World.
Trinity Foxx is used to her grandfather's crazy stories, so she doesn't believe the latest treasure he brought home to their failing West Texas museum is a real dragon's egg. Not until Connor Jacks, a dragon hunter from the future, tells Trinity that the world is about to be wiped out by a fiery dragon war—unless they find a way to stop it.
Save the Dragon. Save the World
But Connor's not the only one after the egg. His twin brother Caleb believes dragons have the power to save mankind and must be protected. Caleb has seen too many dragons destroyed in the war-scorched future—he'll do whatever it takes to save this one.
With a host of enemies hot on her heels, Trinity must decide who to believe. Connor the brave solider? Caleb the cocky rebel? Or the baby dragon that's starting to whisper to her...saying they are destined? The fate of the world may depend on her choice.
This book was sent to Compass Book Ratings for review by Sourcebooks Fire
Scorched
by Mari Mancusi
Overall Review:
With a rip-roaring premise, Scorched, written by seasoned author Mari Mancusi, encourages readers that they are in for a fantastical adventure. Unfortunately, for this reader that premise fell flat and the ignition of excitement snuffed out after a couple of chapters.
The story is a mixture of Terminator--character(s) sent from the future to prevent apocalyptic terror on the race of mankind--and Eragon--character and dragon's minds are connected and lives fated together for a destiny of epic proportion. Who wouldn't be beguiled by this design? What could go wrong?
Through third person narrative the writing starts off vigorously, with fast-paced action scenes and dilemmas galore that the characters must tackle. It seems as though readers are in for a wondrous battle between two worlds: the present day and what could be the future. Sadly, what started out with so much spark, dwindles into the ashes of "what could have been". Teen protagonist, Trinity Foxx weakens the plot with her indecisive and waffling behavior. It's difficult to connect to a character when almost every action they take is almost the exact opposite of what you would do, and this action just leads to more problems. Although Trinity is the main problem (uh I mean, character), the minor characters also start to have obtrusive behavioral ailments that may make it hard for a reader to connect.
Despite the squelch in character connection and plot advancement, the pacing is precise and the writing quality is commendable. There is no denying that the author has talent for formulating a riveting story, even if the follow-through doesn't quite engage reader from beginning to end. Considering the premise of the novel never truly takes flight, this may give the reader who is resolute hope that the follow up novels (as Scorched is the first book in the trilogy series) will restore the amusing style that the first few chapters hinted at.
Content Analysis:
Profanity/Language: 37 religious exclamations; 34 mild obscenities; 1 religious profanity; 5 derogatory names; 1 scatological word; 2 anatomical terms.
Violence/Gore: Character verbally threatens another character while holding a gun 2x; character is physically restrained, fights to be free; character shoots another character in the head, brief, somewhat descriptive; character scraps knee, blood mentioned; character briefly punches and shoves another character; brief report of future apocalypse; character briefly recalls the aftermath of finding their parent dead as a result of suicide, blood and gore mentioned; character briefly reports how their parent died; extended scary scene (about 2 pages) character is transported into an intense situation in which they witness humans screaming from being burned alive; character receives minor burn; character accidentally slices hand; character hits another character on the head with an object, kicks them; character roughly grabs another character and puts a gun to their back; extended scene (about 1 page) character uses a gun to take another character hostage, threatens to kill them; pushes them to the floor resulting in scraped and bloody knees; character is informed that another character plans to kill him/her; fantasy creature is electrocuted; character threatens another character with bodily harm; brief account of the injuries a fantasy creature incurred; extended scene (about 2 pages) fantasy creature and character fight to the death; brief report of character killing a fantasy creature; brief reports of beating and death; character is beaten by a group, blood mentioned; extended scene (about 1 page) characters wrestle, character receives a gunshot wound; character is forcefully pushed against a wall, blood mentioned; extended scene (about 1 page) fantasy creature burns and rips about the bodies of 2 human victims; character shoots another character dead; character sees another character with black eyes and bruises; character is hit with the butt of a gun; implied occurrence of character's death as part of a ceremony; character briefly tackles another character, hits them in the head with an object; report of character being shot; extended scene (about 1 page) character is attacked by a mob, is hit and kicked repeatedly, blood mentioned; extended scene (about 1 page) character contemplates killing another character.
Sex/Nudity: Male character holds female character's hand and/or hugs as a comforting gesture 4x; female character finds male character attractive, briefly fantasizes about "hooking up"; male character gives female character a light kiss on cheek; male character briefly fantasizes about being romantic with a female character; descriptive kiss with touching and caressing between male and female; male character implies that he has kissed many girls.
Mature Subject Matter:
Mental illness, death/loss of parent(s), juvenile takes on adult responsibilities, animal cruelty, apocalyptic events.
Alcohol / Drug Use:
Minor character recollects stealing whiskey and getting drunk with a friend.
Reviewed By MaryLou