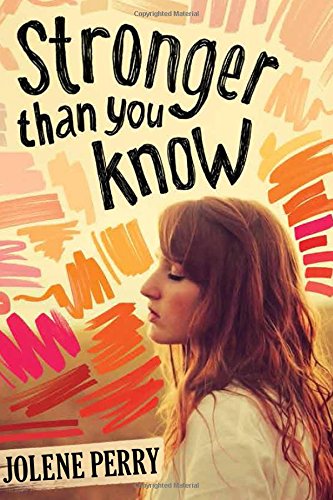 Publisher's Note:
After police intervention, fifteen-year-old Joy has finally escaped the trailer where she once lived with her mother and survived years of confinement and abuse. Now living with her aunt, uncle, and cousins in a comfortable house, she's sure she'll never belong. Wracked by panic attacks, afraid to talk to anyone at her new school, Joy's got a whole list of reasons why she's crazy. With immense courage, Joy finds friends and grows closer to her new family. But just when hope is taking hold, she learns she must testify in her mother's trial. Can she face her old life without losing her way in the new one? Will she ever truly belong in a world that seems too normal to be real?
This book was sent to Compass Book Ratings for review by Albert Whitman & Co.
Stronger Than You Know
by Jolene B. Perry
Overall Review:
Stronger Than You Know is a heartbreaking, eye-opening story about a sixteen year old girl that has endured abuse at the hands of her mother for many years. The author, Jolene Perry, describes the emotional mayham that an abuse victim would endure once removed from the situation. She does this in a way that is both captivating and realistic. Her characters are easy to relate to and imagine as they go about their daily lives. She tells of the daily instances that force Joy, the main character, to relive her nightmares that were her normal not too long ago. Joy has strength that other victims will applaud. I could not put this book down and lost sleep as I read through the night. I believe that anyone that has suffered abuse would want to share this book with their friends so that they can understand the complicated cycle that a victim goes through. This book is extremely well-written and a must read for anyone that has dealt with or will be dealing with foster children or abuse victims.
Content Analysis:
Profanity/Language: 2 mild obscenities; 4 anatomical terms.
Violence/Gore: Report from case worker mentions severe signs of abuse and neglect; report mentions depression and possibility of being suicidal; character states she was burned and hit; character mentions having burns across their back; character thinks about a time when someone held a knife to her neck and dug it in her skin; character thinks about when she was burned by a cigarette on her back; character reports scars are from cigarette burns that she did not do; minor age character recalls being held down and being 'punished' by a much larger male with a knife; character tells another character about being burned with cigarettes and having bruises; character recalls, with no details, on the witness stand being beat up and raped.
Sex/Nudity: Minor age character hints that visitors sometimes came to her room while her mom had a gathering; minor aged character recalls adult male character using his stubble to scratch her face and any other place he saw fit to have his mouth (abuse); two minor age characters kiss; minor age male lies on top of minor age female (fully clothed) and kisses her; character recalls adult males touching her forcefully; minor character recalls adult taking off her shirt and using a small knife to make her be good (implied abuse); characters hold hands; characters hug; married couple hugs; minor age characters kiss with full body contact (clothed); character traces scars on characters back gently; characters hold hands multiple times; characters kiss multiple times.
Mature Subject Matter:
Parent in jail, years of child abuse, therapy, medications for depression, medications for sleep, self-harm (contemplation/possibility of), panic attacks, nightmares, minor taken by police into child services for abuse, court, rape, sexual abuse, and neglect.
Alcohol / Drug Use:
Parent is said to drink alcohol often; adult character drinks a beer; minor take a sip of parents' beer; character recalls mother's drinking getting worse; minor character is reported to have legendary parties; character remembers guests drinking too much; characters take prescribed 'panic-pills'; minors attend a party and guests are thought to be drinking alcohol; minor admits to having shots of alcohol; minor admits to drinking a beer; characters half a sleeping pill in front of parents.
Reviewed By Nicole