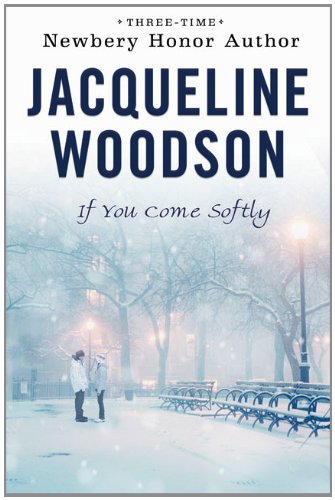 Publisher's Note:
A heartbreaking contemporary romance from a three-time Newbery Honor winning author

Jeremiah feels good inside his own skin. That is, when he's in his own Brooklyn neighborhood. But now he's going to be attending a fancy prep school in Manhattan, and black teenage boys don't exactly fit in there. So it's a surprise when he meets Ellie the first week of school. In one frozen moment their eyes lock and after that they know they fit together -- even though she's Jewish and he's black. Their worlds are so different, but to them that's not what matters. Too bad the rest of the world has to get in their way. Reviewers have called Coretta Scott King Award-winning author Jacqueline Woodson's work "exceptional" (Publishers Weekly) and "wrenchingly honest" (School Library Journal), and have said "it offers a perspective on racism and elitism rarely found in fiction for this age group" (Publishers Weekly). In If You Come Softly, she delivers a powerful story of interracial love that leaves readers wondering "why" and "if only...."
If You Come Softly
by Jacqueline Woodson
Overall Review:
Jacqueline Woodson's writing is so beautiful and moving that I want to read everything she writes. This is a truly gifted author. Told through the two main characters' points of view, the story of Miah and Ellie is profoundly sad and hopeful at the same time.
Woodson's work is often inspired by poetry, which lends a poetic quality to her writing that is unequalled. If You Come Softly gently guides the reader to feel deeply, and teaches wonderful life lessons in the process. Although this is outwardly a story about race, there is so much more to it--characters learn to seize opportunities, cherish relationships, and be honest about who they are.
A modern-day retelling of "Romeo and Juliet", If You Come Softly engages readers young and old.
Content Analysis:
Profanity/Language: None
Violence/Gore: A character is chased by two people and feels a pain in his side and falls to the ground with the implication that he has been shot, but there are no details given; afterward readers understand that the character has died.
Sex/Nudity: Characters kiss (4 times); a character thinks about kissing (3 times); a character touches another character's face; a character kisses another character's hand; characters hold hands; an adult jokingly flirts with an underage character.
Mature Subject Matter:
Divorce, death, racism, abandonment, pregnancy out of wedlock is discussed, unmarried adults live together.
Alcohol / Drug Use:
Adults drinks wine socially.
Reviewed By Leslie