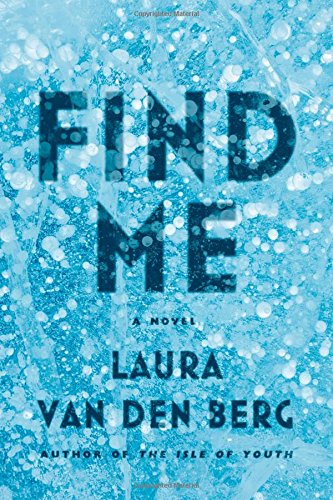 Publisher's Note:
After two acclaimed story collections, Laura van den Berg brings us Find Me, her highly anticipated debut novel--a gripping, imaginative, darkly funny tale of a young woman struggling to find her place in the world. Joy has no one. She spends her days working the graveyard shift at a grocery store outside Boston and nursing an addiction to cough syrup, an attempt to suppress her troubled past. But when a sickness that begins with memory loss and ends with death sweeps the country, Joy, for the first time in her life, seems to have an advantage: she is immune. When Joy's immunity gains her admittance to a hospital in rural Kansas, she sees a chance to escape her bleak existence. There she submits to peculiar treatments and follows seemingly arbitrary rules, forming cautious bonds with other patients--
Find Me: A Novel
by Laura van den Berg
Overall Review:
Do you like The Walking Dead? Then you may have just stumbled upon a book you will fall in love with. Find Me is an adult novel, but is such an easy read, that I can see some teens enjoying it, too. I know I would have in my teen years. Although this book isn't necessarily dystopian, it does have some characteristics of that genre. There is a distinct post-apocalyptic feel, or at least the setting of a world in chaos. Some kind of virus or sickness has broken out and now people are being quarantined to save themselves from getting the illness. (Perhaps the author may have gotten the idea for this book from the recent Ebola scare the U.S. saw, who knows? They seem similar to me.)
This book was a little bit confusing. Although the beginning felt like it could go somewhere--and it was, the ending felt a little bit incomplete. I still feel like there was more to this story that I either didn't catch, or that just wasn't there. The characters weren't really ones that you came to know closely. Joy, the protagonist, is a girl (woman? Her age is never given...) who lives with a bunch of people in a hospital. All the people there are immune to whatever disease is ravaging the nation, and so this place is a makeshift home for the time being. Hospitals are safe havens, even in our world, but for Joy it was beginning to feel more like a prison. How frightening to know you are trapped in a place that doesn't feel like home! As I read this book, I started to feel a glimmer of hope for Joy. She has been feeling hopeless for much of her life, and then all of a sudden she finds a way to break free from the bonds that hold her back, even if it takes all the courage she has.
This story was intriguing and kept me reading, but as the book plodded on, I got closer and closer to the end and didn't feel like I had an ending. Read this book knowing you won't leave feeling satisfied. It's an appetizer of a book, not a main course.
Content Analysis:
Profanity/Language: 3 religious exclamations; 1 mild obscenity; 1 derogatory name; 4 scatological words; 2 anatomical terms; 12 F-Word derivatives.
Violence/Gore: A character is mentioned to have some sort of sickness and odd skin lesions; a building explodes in one brief scene; a baby is mentioned to have been abandoned on some steps and rescued; a character is mentioned to have died from a heart attack; mothers are mentioned to drug their daughters and sell them into prostitution with no detail given; a girl is slapped and loses a tooth, bleeds a little; two little boys die from exposure to extreme cold; a dead deer is described briefly with its "guts spilling out"; suicide is mentioned and implied.
Sex/Nudity: Minors kiss several times; adults kiss; two characters of unknown age are implied to be sexually active; a nude couple of undetermined age sleep together in the same bed; a woman's nude body is briefly observed in a non-sexual way; a woman is mentioned to undress in front of a male character; a male tries to touch a female he likes in a sexual way; mothers are mentioned to drug their daughters and sell them into prostitution with no detail given.
Mature Subject Matter:
Sickness, death, suicide, world disaster, personal crises.
Alcohol / Drug Use:
A character gets stoned on cough medicine; adults smoke; drug abuse is depicted in a brief scene; adult characters drink homemade alcohol; a girl is depicted to try an unknown sort of drug, hallucinations are briefly described.
Reviewed By Lydia