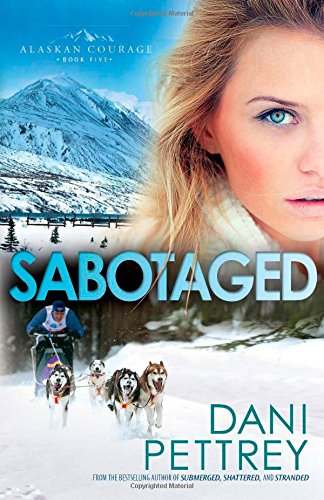 Publisher's Note:
Finally Returned Home, Reef McKeena
Finds His Beloved Alaska Facing Its Greatest Threat

Growing up, goody-two-shoes Kirra Jacobs and troublemaker Reef McKenna were always at odds. Now, working together as search-and-rescue for Alaska's arduous Iditarod race, a growing attraction seems to be forcing aside old arguments. Then Reef catches Kirra sneaking from camp in the middle of the night.

Kirra's uncle, a musher in the race, has disappeared. Kirra and Reef quickly track the man, but what they discover is harrowing: Frank's daughter has been kidnapped. Kirra and Reef, along with the entire McKenna family, are thrown into a race to stop a shadowy villain who is not only threatening a girl's life--but appears willing to unleash one of the largest disasters Alaska has ever seen.

Pettrey is the Winner of the 2014 Daphne du Maurier Award for Inspirational Romantic Suspense

This book was sent to Compass Book Ratings for review by Bethany House Publishers
Sabotaged
by Dani Pettrey
Overall Review:
Dani Pettrey's inspirational romance series Alaskan Courage follows the lives of the five McKenna siblings. Readers will appreciate the books more if read in order. Sabotaged is the fifth and final installment. This story is set in Alaska during the Iditarod. As this review is being penned, the 2015 Iditarod is being run.
Several things rubbed the wrong way in this story. First, the kidnappers tell the characters not to involve police. The main characters immediately get the police involved, but more as consultants. Even though it is obvious the bad guys are following them, the characters are in and out of various law enforcement facilities. Then, in the midst of this, the characters have the nerve to say they should not do something, because the bad guys say no police. This is just one illustration of the inconsistencies of the characters which weakens the intensity. It is also interesting that law enforcement helps protagonists get into dangerous situations rather than taking over the investigation.
The second serious irritation is the supposed romance development. The female protagonist has been rude and derogatory to the male character for more than fifteen years. Then, in less time than it takes the winner to complete an Iditarod, eight to nine days for those who don't follow the race, romance has blossomed in full and is a done deal. Many other books have quick romances, but this one just does not sell the love scene.
One of the positives in this story is the way in which many characters come to develop a relationship with Christ and desire to improve their lives. This is an overarching theme. Also noteworthy is the fact that the bad guys actually do hurt people and don't play nicey-nicey the whole story.
The first two books of the Alaskan Courage series seem most compelling and interesting. The subsequent titles lose steam for a variety of reasons. Pettrey is already at work on a new series and it will be interesting to see how those books feel. Happy mushing to all you armchair mushers and Iditarod race fans! You will recognize many of the checkpoints in this book.
Content Analysis:
Profanity/Language: None
Violence/Gore: Characters threaten to shoot animals; people are shot, none fatal, but mention of blood; report of a person being shot and killed (this is referenced a few times); body of a character is found and has been mauled by a bear, there is a blood trail leading to the body; several explosions in which characters are injured, but not killed.
Sex/Nudity: Non-married characters embrace, kiss and hold hands; a character thinks another has a "sexy" smile; someone is called a trollop; person recalls (without graphic detail) and references a rape many times throughout the book.
Mature Subject Matter:
Sexual assault.
Alcohol / Drug Use:
College co-ed remembers consuming too much alcohol; characters are drinking at a bar.
Reviewed By Susan