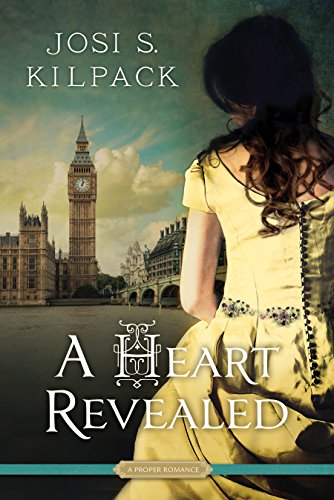 Publisher's Note:
Amber Marie Sterlington, the Rage of the Season in Regency-era London, has her pick of men, and she knows what she wants most in a husband: a title and a fortune. Why would she ever marry for something as fickle as love? And why would she ever look twice at Thomas Richards, a third son of a country lord?

But when Amber's social standing is threatened, the character of her future husband becomes far more important than his position. After a public humiliation, she finds herself exiled to Yorkshire. Alone except for her maid, Amber is faced with a future she never expected in a circumstance far below what she has known all her life. Humbled and lonely, Amber begins to wonder if isolation is for the best. Who could ever love her now?
This book was sent to Compass Book Ratings for review by Shadow Mountain
A Heart Revealed
by Josi S. Kilpack
Overall Review:
A Heart Revealed is the latest novel in Shadow Mountain's Proper Romance series. Penned by award-winning author Josie S. Kilpack, this book is a sure hit! While primarily a tale of romance, A Heart Revealed is also a poignant story of friendship and finding inner beauty. Kilpack delivers masterful character development and stunning writing throughout the plot. Leading lady Amber transforms from a truly unlikable character into one that readers will come to cheer for and love. Amber's friendship with spunky Suzanne and her blossoming relationship with the charming Thomas make for a sweet and satisfying read. It's important to note that Kilpack's sensational writing produces many thought-provoking, beautiful and touching lines, so readers may want to keep a pen nearby. With a fantastic message, delightful romance and several great Shakespeare references, A Heart Revealed is a real winner!
Review of Advance Review Copy
Content Analysis:
Profanity/Language: None
Violence/Gore: A character recalls reading a book about gladiators fighting to the death.
Sex/Nudity: A few incidents of kissing; a few sexual references are made when a character suspects another might be pregnant.
Mature Subject Matter:
Sibling rivalry, physical illness, death of a family member, mention of gambling tables.
Alcohol / Drug Use:
Characters occasionally drink wine.
Reviewed By Rachel