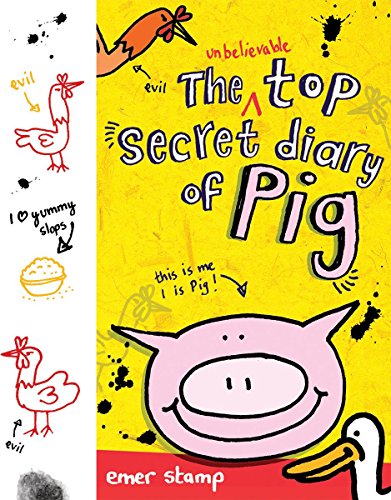 Publisher's Note:
This laugh-out-loud funny debut will please boys, girls, pigs, vegetarian farmers, ducks--everyone save for evil chickens.


This is me. I is Pig! If you is reading this, you can read Pig, and you is very clever. Unless you is an Evil Chicken, in which case, don't read this!

Pig is troubled. Usually, life on the Farm is pretty good. He has yummy slops, a true friend in Duck, mud to roll in, and Farmer to scratch his back and call him Roast Pig (his special nickname). But the Evil Chickens are up to something evil, involving a tractor-rocket. And Duck has something else to show his porcine friend: a shed where Farmer prepares to eat Pig for dinner!

What can Pig do? If he goes in the Chickens' trocket, he might run out of slops. If he stays, he'll become sausages and bacon. But if Pig and Duck can come up with a plan that involves the chicken house, the trocket, some itchy sheep, and an imaginary fox--maybe they can fix the Farm...or maybe they'll land in even more trouble. Don't miss the hysterically funny debut from Emer Stamp and Pig!
This book was sent to Compass Book Ratings for review by Scholastic Press (A Scholastic Imprint)
The Unbelievable Top Secret Diary of Pig
by Emer Stamp
Overall Review:
The Unbelievable Top Secret Diary of Pig by Emer Stamp is a picture novel written in the same style as the Diary of a Wimpy Kid series. Like most novels of this genre it is classified as middle grade fiction, but is really targeted towards elementary aged readers.
The Unbelievable Top Secret Diary of Pig is a cute story about a pig who decides to run away when he learns he is destined to become dinner. The story is told from the perspective of Pig, who speaks in an "I is/They is" style This makes it a little difficult to read, but also gives the story an endearing quality. There isn't really any character development. However, the story moves fairly quickly and is entertaining. Pig is a fun tale that will especially appeal to younger readers.
Review of an Advance Review Copy
Content Analysis:
Profanity/Language: None
Note: Many references to poop and farting
Violence/Gore: Chickens peck Pig; Non-graphic reference to ducks being eaten by a fox; several, non-graphic, references to Pig being killed or eaten; human child breaks decorations; Pig bites human child; Trocket (tractor/rocket) damages property; Trocket crashes.
Sex/Nudity: None
Mature Subject Matter:
None
Alcohol / Drug Use:
None
Reviewed By Amberle