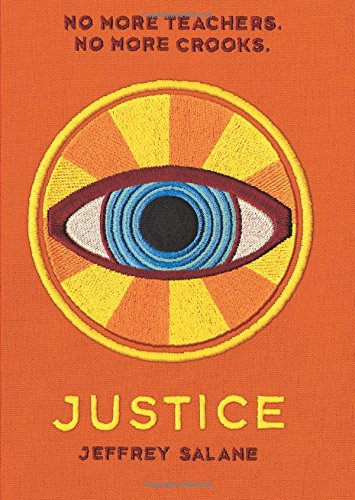 Publisher's Note:
The fast-paced, action-packed sequel to LAWLESS.

No more teachers. No more crooks!

M Freeman thought she had finally found a place where she belonged: the Lawless School, where the children of master criminals trained to become master criminals themselves. She took her studies seriously, never suspecting she was a pawn in a dangerous game.

Now she knows the truth: The forces of Lawless are after a weapon that threatens all life on earth. M and her crew are determined to stop them - but they can't do it alone. And that means joining the Fulbright Academy.
This book was sent to Compass Book Ratings for review by Scholastic
Justice
by Jeffrey Salane
Overall Review:
Justice,sequel to Jeffrey Salane's debut novel Lawless, continues to follow M. Freeman and her ragtag group of felonious friends, in third person narrative, as they are taken from the Lawless School and fully immersed in full-on Fullbright madness. Essentially picking up right where Lawless ended, Salane wastes no time in Justice with back stories or rehashing of past events, making it a wise choice for readers to already be familiar with the Lawless happenings and characters before venturing into the follow-up novel.
Though M. is no longer a Lawless student can her criminal ways truly be reformed by the Fullbright mentality, or are the Fullbrights just an underhanded organization that claims to be on the right side of the law?
"And you call yourselves the good guys, thought M. She may have been disavowed by Dr. Lawless, and she may have turned her back on what the Lawless School stood for, but this mindless belief that violent means could lead to a good-guy ending was crazy."
Salane doubles up on the onslaught of fighting as the book packs more than a few punches. The violence and action-packed scenes that seem to come one right after another are so rampant that it may just become boring for some readers, but hold on, as with the first book the real excitement comes three-quarters into the novel, proving that Justice does have brain and isn't all brawn.
A welcome benefit of this book is Salane's slowed down rhetoric which leaves readers time to breath between sentences and chapters without feeling that they might have missed a piece of the puzzle. This improvement proves that Salane is finding his place in the fiction world. With an ending that leaves readers soliciting for more folly from Freeman and more questions than answers, it would be criminal if there is not another book in the series. All in all, Justice corroborates author Jeffrey Salane as a legitimate force in the field of middle-grade fiction.
Review of an Advance Reader Copy
Content Analysis:
Profanity/Language: None
Violence/Gore: Extended scene (about 1 page) characters discuss the criminal activities of other characters, some of which include violent actions; character pushes another character down; character has a dream in which they tackle and hit another character; character is thrust against a wall; extended scene (about 2 pages) characters fight one another using technologically engineered strength, brief mention of blood and stitches; character briefly recounts a physical altercation with another character; extended scene (about 1.5 pages) characters are physically violent with one another, knocking the wind out of one character and mention of dislocating of shoulder; character is kicked off a moving object; extended scene (about 3 pages) characters fight one another, punching, chasing, and threatening; character threatens another character's life; character briefly recounts another character's violent exploits; extended scene (about 1 page) characters engage in physical violence tracking and hitting one another, resulting in bleeding and broken bones; extended scene (about 1 page) characters kick, hit, and chase one another; character is mildly electrocuted; character verbally threatens another character; character briefly admits to trying to kill another character; characters are subjected to a state of being known as, "the deep freeze" leaving characters unable to physically move, painful (about 10x); characters are threatened with death and encounter a precarious situation; character stabs (wounding) and cuts other character, mention of blood; extended somewhat graphic scene (about 1 page) character roughly knocks another character away causing character to hit head, child character cuts off another character's limb and stabs them, blood mentioned, 2 characters assumed dead.
Sex/Nudity: Characters embrace as friends (2x)
Mature Subject Matter:
Loss of a parent, children and adults engage in criminal activity-- stealing, hacking, deceit, physical violence against others etc., kidnapping/being held against one's will, genetically enhanced beings.
Alcohol / Drug Use:
Characters are injected with a special serum using a syringe.
Reviewed By MaryLou