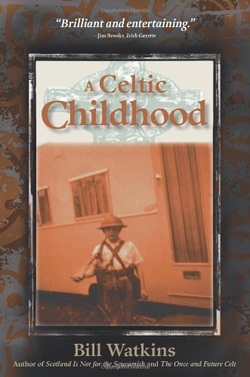 Publisher's Note:
A Celtic Childhood vividly portrays Bill Watkins' eccentric Celtic family: his vibrant Irish mam whose "hand is on the tiller" as head of household; his principled but stout-loving Welsh dad; and his Grandda, who has "a generous supply of Celtic songs and tall stories." These tales from Watkins' boyhood find him disrupting weddings while dressed as a gangster, illegally operating a ham radio, and getting kicked out of Ireland for "vagrancy." The lively anecdotes of A Celtic Childhood sing from the page with a keen sense of rhythm.
This book was sent to Compass Book Ratings for review by Scarletta Press
A Celtic Childhood
by Bill Watkins
Overall Review:
A Celtic Childhood is a lovely memoir that reads as if you're sitting at the feet of a grandfather full of stories! This book is full of charming vignettes and hilarious antics as we follow a boy from his birth up to his seventeenth year. Young Bill's views are hilarious—he has the perfect point of view as he recounts his childhood memories! He has mishaps with gas meters and water taps; an hilarious Nativity 'scene'; thoughts on the evil 'damp' that eats everything (did you know it is a large green monster?); imaginative fights with the 'Red Baron'; and innocence and honesty as he views the world as a young boy. He terrorizes the community as he and his gang are constantly finding some way to rile up the locals, whether it be through taunts or randomly tossed hand grenades! He candidly tells of the hardships of growing up during wartimes. Bill Watkins definitely has talent as a storyteller! His tales flowed so well and kept my interest. I loved all the little songs and poems throughout, as well! A Celtic Childhood is a fun romp through old Ireland and Wales!
Content Analysis:
While this book is very funny and interesting, the language was excessive! It averaged out to be about 4-5 words per page, and for a 287 page book, that's quite a bit! Most of it was moderate. There were also many very strong words (including f-words). There were also quite a few very crude poems and songs, and many crude references throughout.

There is some violence, mostly in the form of stories about wars, ghosts, and murders. There are a lot of boyish antics, and many of those involve fistfights, nasty tricks (people tended to get hurt), and the use of live firearms (grenades, guns, etc.—but most people came away from those unscathed). There are mentions of abuse, fights, and many other things of that nature. This is written during times of depression and war, so the people do not have much and tend to steal or get angry. These instances are not too horrible as they are told through the eyes of a child (and with a great deal of humor). A character punches a priest multiple times in order to get his way.

The sexual content consists of a great deal of innuendos. Many thoughts and desires are mentioned as the main character grows older. There are some crude things written on a bathroom wall (jokes/poetry about males and females). There is an initiation into a gang that had to do with an animal that was very gross. There is also a short anecdote where a priest tries to teach sex-ed and a girl mentions she wants to be a strip-tease dancer (and explains why).
Mature Subject Matter:
Loss of family members, reversal of life circumstances (and making the best of what you have), dropping out of school, adolescent drinking (there is a LOT of drinking and drunkenness). There is a character who is an atheist who constantly mocks religion in a very crude and sacrilegious fashion.
Alcohol / Drug Use:
Adolescent drinking and drunkness.
Reviewed By Emily