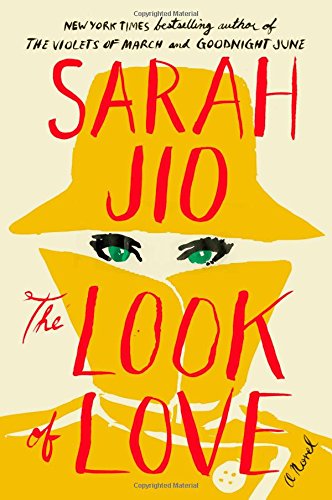 Publisher's Note:
"Jio has become one of the most-read women in America." –Woman's World

Born during a Christmas blizzard, Jane Williams receives a rare gift: the ability to see true love. Jane has emerged from an ailing childhood a lonely, hopeless romantic when, on her twenty-ninth birthday, a mysterious greeting card arrives, specifying that Jane must identify the six types of love before the full moon following her thirtieth birthday, or face grave consequences. When Jane falls for a science writer who doesn't believe in love, she fears that her fate is sealed. Inspired by the classic song, The Look of Love is utterly enchanting.
The Look of Love: A Novel
by Sarah Jio
Overall Review:
Having not read anything by Sarah Jio in quite some time, I excitedly and expectantly snatched up a copy of The Look of Love right after it was put into the system at our library. Ms. Jio writes anything from gushy romances to serious-toned novels; one never know what they will get. This time I was surprised to find a book that was not only slightly romantic, but also a little fantastical. The main character, Jane, is a woman who is reaching middle age with still no love prospects on the near horizon. Instead of being heartbroken and morose, she finds ways to help others find love; one of the ways is by selling bouquets of flowers to people from her little marketplace.
Jane seems to lead a pretty normal life, and she likes it that way, but then (and here is the part that surprised and delighted me) she meets a woman who tells her that her life is connected to love and the power of it in ways Jane can't even begin to imagine. Suddenly she is burdened with a mission that she must complete before her 30th birthday, a mission that she might not have any control over at all.
Some people are saying they don't like this book, because it doesn't put forth a very likely or plausible story. Well, that is the point of this book. It is a story about a woman who is at a point in her life that could be viewed as the onset of spinster-dom. She is a woman who is typical and could be you or me, or the next door neighbor. But there is more to Jane than meets the eye, and that is where the wonder of this story lies. If you're open to reading a book that might not hold your ordinary story, take a chance and pick up The Look of Love. You might be surprised at how smitten you are with Jane and her friends.
Content Analysis:
Profanity/Language: 4 religious exclamations; 5 mild obscenities; 1 scatological word; 1 anatomical term.
Violence/Gore: A car accident occurs, a character is mentioned to be bleeding and to die; violence is implied in one brief conversation where a theoretical situation of a man killing his wife is depicted; a traumatic brain injury is mentioned; a character suffers an injury and paralyzation.
Sex/Nudity: A man is described to imagine undressing a woman with brief explicit detail; a woman observes a nude man and desires him; a man and woman are observed having sex in one brief scene with no explicit detail; a woman is suggested to be dating a married man; adults kiss multiple times; a mature discussion about sex is had; a man is mentioned to "ravish" a woman; a married man is flirtatious with a woman who is not his wife; spouses are mentioned to be carrying on affairs; a nude woman is mentioned to be sleeping with a man; a woman and man are referred to having "morning sex"; a woman is mentioned to be dating and sleeping with a married man; a man and woman are mentioned to be having sex in one brief scene with a some explicit detail.
Mature Subject Matter:
Death of a parent, cancer, death, affairs, extramarital, supernatural (woman is described to have "magical" powers).
Alcohol / Drug Use:
Adults drink wine and vodka; adults smoke.
Reviewed By Lydia