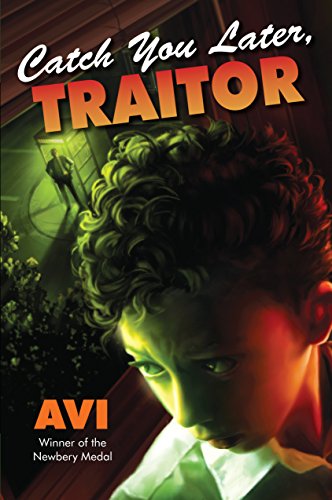 Publisher's Note:
From Newbery Medalist Avi comes the thrilling and suspenseful story of an ordinary American family who fall under suspicion.

It's 1951, and twelve-year-old Pete Collison is a regular kid in Brooklyn, New York, who loves Sam Spade detective books and radio crime dramas. But when an FBI agent shows up at Pete's doorstep, accusing Pete's father of being a Communist, Pete is caught in a real-life mystery. Could there really be Commies in Pete's family? As Pete follows the quickly accumulating clues, he begins to wonder if the truth could put his family's livelihood—and even their freedom—at risk.

In the tradition of Who Was That Masked Man, Anyway?, Don't You Know There's a War On?, and Nothing But the Truth, Catch You Later, Traitor tells a funny,
insightful story packed with realistic period detail of a boy in mid-twentieth-century America whose family is caught in the wide net of America's Red Scare.
This book was sent to Compass Book Ratings for review by Algonquin Young Readers
Catch You Later, Traitor
by Avi
Overall Review:
Catch you Later Traitor is middle grade historical fiction set in the uncertain times of the Red Scare of the 1950's. Author Avi expertly takes the reader back to a time of distrust and skepticism, but through the eyes of Pete, a middle-schooler whose dad is accused of being a Communist and his best friend is no longer aloud to talk to him. For Pete it seems that his life has been turned upside down and he's determined to get to the bottom of it and fix it.
In Catch You Later Traitor, Avi covers a time not usually touched on in historical fiction. The story is told in a way that not only helps the reader understand the time period better, but questioning how we treat others. This novel is definitely one that leaves the reader thinking. The only problem with that thinking is that you are left wanting a little more depth into the characters way of thinking as well and more depth into their interactions with each other.
Review was of an Advance Review Copy
Content Analysis:
Profanity/Language: 5 religious exclamations; 1 anatomical term.
Violence/Gore: 2 accounts of murder in a fictional radio show; character threatens others with a fist fight; description of Soviet work camps and murders of dissenters; character punches another; description of dead body covered in white sheet; mention of going off to war and possibly being killed; mention of Nazi gas chambers; account of adult hitting a child on the head; account of death in labor camp; account of man dying of natural causes.
Sex/Nudity: None
Mature Subject Matter:
Communism, Atomic bomb and bomb shelters, divorce.
Alcohol / Drug Use:
Adult smokes cigar; adult smokes a pipe; account of adults smoking.
Reviewed By Sally