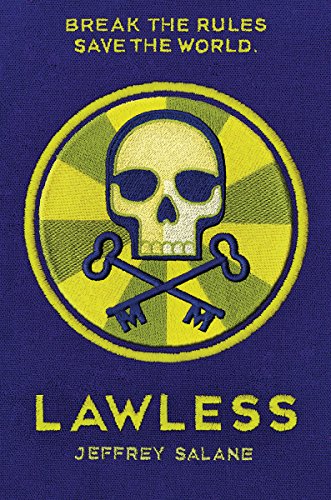 Publisher's Note:
Break the rules. Save the world.

An action-packed, globe-spanning adventure begins here!

Welcome to Lawless, where the head of the class is a dangerous place to be.

M Freeman is the newest student at the prestigious (and mysterious) Lawless School. All she really wants is to fit in, but from the moment she arrives, her unusual skills have the whole academy buzzing. M excels at escape tactics. She's a whiz at spotting a forgery. But can she tell right from wrong? She'll have to figure it out fast, because some of her teachers are planning the crime of the century . . . and M and her classmates might be the only people who can stop them.

Jeffrey Salane's debut novel is full of twists and turns, reveals and reversals. Spoiling the ending for your friends would be criminal!
This book was sent to Compass Book Ratings for review by Scholastic
Lawless
by Jeffrey Salane
Overall Review:
Jeffrey Salane's debut novel Lawless, creates a far-fetched middle grade story which proposes that a school exists for children to teach them how to be outstanding citizens--not outstanding law-abiding citizens, but mastermind criminals in the making. An exciting play on the traditional spy novels with the twist being readers are reading from the "bad guys" perspective.
Don't let the dubious dealings fool you, the unrealistic events make the book all the more entertaining as Salane introduces the reader to a cast of intelligent, albeit crooked children, the lead sleuth being M. Freeman. What can be said for M? Well, if Jason Bourne were a twelve year old girl, he would most definitely be M. Freeman. The gender neutrality of the protagonist's first name is just one element that establishes this novel as a book accessible to both boys and girls.
Written in third person format, the novel thrills with its onslaught of fast-paced verbiage, that at times can leave the reader a bit confused at the happenings. "Did I accidentally skip certain sentences? Did the author leave out a chapter or two?" No, that just seems to be Salane's writing style, so if the reader wants to stay aware of the characters' surroundings, it's best to be keen; one may have to re-read a few pages to comprehend the logistics. Although the writing is fast-paced, the storyline at times drags, crawling towards the three-quarters mark before truly gaining appreciation and coherence of the plot. Despite the hang-up, readers may overlook this and become a repeat offender of Salane's work as Lawless is only the first book in the series. Be on the lookout for the follow-up, Justice. Even among criminals there seems to be some sort of moral code, so who's really the crook in the book? You decide.
Content Analysis:
Profanity/Language: None
Violence/Gore: Mention of death by plane crash; character threatens to break another character's hand; character is grabbed, they kick to be free, characters tackle one another (brief scene); characters are mildly electrocuted; character electrocutes another character causing injury; characters briefly engage in a physical altercation; building is set on fire, no injuries; secondhand report of violent death; character is punched; character admits to killing another character; characters briefly tackle and hit one another; property destroyed, assumption of death.
Sex/Nudity: None
Mature Subject Matter:
Loss of parent, children are trained to commit criminal activities--thieving, grifting, computer hacking, etc.
Alcohol / Drug Use:
A drug to induce a sleep-like trance is used in gas form a few times (about 5) throughout the novel.
Reviewed By MaryLou