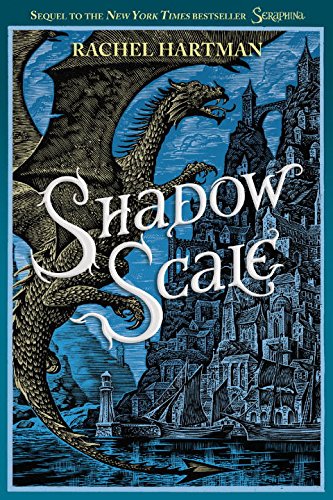 Publisher's Note:
Seraphina took the literary world by storm with 8 starred reviews and numerous "Best of" lists. At last, her eagerly awaited sequel has arrived—and with it comes an epic battle between humans and dragons.

The kingdom of Goredd: a world where humans and dragons share life with an uneasy balance, and those few who are both human and dragon must hide the truth. Seraphina is one of these, part girl, part dragon, who is reluctantly drawn into the politics of her world. When war breaks out between the dragons and humans, she must travel the lands to find those like herself—for she has an inexplicable connection to all of them, and together they will be able to fight the dragons in powerful, magical ways.

As Seraphina gathers this motley crew, she is pursued by humans who want to stop her. But the most terrifying is another half dragon, who can creep into people's minds and take them over. Until now, Seraphina has kept her mind safe from intruders, but that also means she's held back her own gift. It is time to make a choice: Cling to the safety of her old life, or embrace a powerful new destiny?

Praise for Seraphina:

A New York Times Bestseller
An Indie Bestseller
Winner of the William C. Morris Debut Award
Winner of the Cybil Award for Teen Fantasy and Science Fiction
An Amazon Top 20 Teen Book of the Year
A Chicago Public Library Best Book of the Year
A Kirkus Reviews Best Teen Book of the Year
A School Library Journal Best Book of the Year
A Library Journal Best Young Adult Literature for Adults Selection
A Booklist Editors' Choice
An ABA New Voices Pick
A Publishers Weekly Flying Start Author
An ALA-ALSC Notable Children's Book
An ALA-YALSA Top Ten Best Fiction for Young Adults Book
Recipient of 8 Starred Reviews
This book was sent to Compass Book Ratings for review by Random House Children's Books
Shadow Scale
by Rachel Hartman
Overall Review:
Rachel Hartman debuted her brilliant novel, Seraphina, about three years ago. She returns to the complex, nuanced world and characters that she created in that novel in her second book, Shadow Scale, which resumes shortly after Seraphina concluded. Fashioned as an excerpt from a historical writing, there is a detailed recap of plot points and events from the first book which serve to jog readers' memories, but frankly, it does not capture the heart of the character Seraphina. To get that, it is essential to read the first book before proceeding.
Although she follows a different story arc, Ms. Hartman is utterly successful (again) in capturing the reader with her protagonist's voice. Seraphina is everything a heroine should be--tenacious, resourceful, smart, adaptable, and compassionate. The author continues to introduce complexities into her fantasy world through politics, cultures, religions, ethics, and a smidgeon of science. Seraphina's foe in this book is more formidable than the one from the first and the author does not shy away from piling obstacles in the protagonist's path.
Shadow Scale is crackerjack writing and a second book Ms. Hartman can be proud of. This is smart, complex young adult fiction that should also appeal to the adult reader who likes to occasionally reach down into that demographic.
Content Analysis:
Profanity/Language: 1 religious exclamation; 2 mild obscenities; 1 derogatory name; 2 anatomical terms; 1 offensive hand gesture.
Violence/Gore: Character falls and hits face; report of dragon assassin and deaths of people in resulting fire (non-detailed); character considers throwing self down mountainside to end life; general reports of violence, rioting, etc.; character attacked with knife resulting in sever injury, non-detailed mention of blood; character snaps a man's neck (brief, non-detailed); a couple of songs with violent lyrics; character shows injury on arm; character pushed (no injury); report of family members killing each other; dragon lists some acts of violence done and observed in recent battles, some details; ships collide resulting in damage; fire deliberately set resulting in destruction of property; dragons kill animals for food; extended fight scene between dragons resulting in burning, death and injures, general in nature; report of torture in secret experiments; dragons kill dragon; report a character tried to take life on a couple of occasions; brief report (non-detailed) of a rape that resulted in a child; character watches epic battle from distance, many human and dragon deaths implied, but non-detailed account; character man-handled and bangs head; character falls to death;
Sex/Nudity: Characters are naked after transformations (non-sexual); sexual references; homosexual characters squeeze shoulders and lean into each other; reference to two "Saints" who were both men and who had been lovers; reference from a religious text about what should happen to a woman if she lies with beasts; character goes to public baths (non-sexual); characters have a conversation and one says they were "born in a masculine body and I misgendered myself" and they now appear as a woman; characters embrace; statement that dragons mated; report of breeding experiments; dragon wonders if another would consent to mate; characters kiss passionately; characters embrace; mention of lover; brief report (non-detailed) of a rape that resulted in a child; brief scene in which female confesses love to another female and kisses her on the mouth; comment about need to produce a heir.
Mature Subject Matter:
Death, war, gender identity issues/gender change, homosexuality, treason, breeding for the purpose of genetic experiments, torturous experiments.
Alcohol / Drug Use:
Characters are given a drug called "destultia".
Reviewed By Cindy