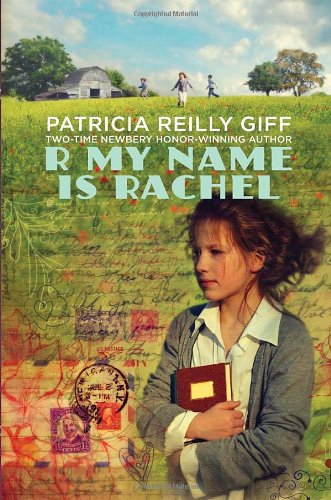 Publisher's Note:
Rachel, Cassie, and Joey live in the city with their Pop, until Pop's search for work lands the family on a run down farm. Dreamy Rachel loves to read, and doesn't know much about the country. Times are hard there, too—the school and library are closed. When Pop gets work near Canada, he has to leave the children on the farm alone. For two months! But Rachel's the oldest, and she'll make sure they're all right. Somehow.
This book was sent to Compass Book Ratings for review by Random House
R my name is Rachel
by Patricia R. Giff
Overall Review:
In R my name is Rachel, award-winning author Patricia Reilly Giff delivers a delightful and touching story about life during the Great Depression. Twelve-year-old Rachel adores life in the city. She shines at school and loves to read and write letters -- she's even planning to write a letter congratulating Babe Ruth on hitting so many home runs! The bits of history that were sprinkled throughout these pages were charming. I loved that popular books and songs of the period, as well as presidents, were all woven into the story.

As the Depression changes everything, Rachel and her two siblings are suddenly alone on a dilapidated farm. Rachel steps up to the challenge and proves she is a one-in-a-million character. She's charming and optimistic, not afraid of hard work and wise beyond her years. Rachel's perseverance during difficult times is nothing short of inspiring. Her honest narrations offer a realistic view of how life during the Depression must have been. With similar economic times today, the novel's message of hope and love will resonate with readers of any age. Lovable characters and a heartwarming plot make R my name is Rachela real winner.
Content Analysis:
There is no profanity, violence or sexual content in this book.

Mature Subject Matter:
There are several mature themes that deal with life during the Great Depression; however, they are approached mildly and from a twelve-year-old's perspective. These themes include the consequences of a parent losing a job, financial hardship and emotional stress, moving, and living without parents.
Alcohol / Drug Use:
***
Reviewed By Rachel