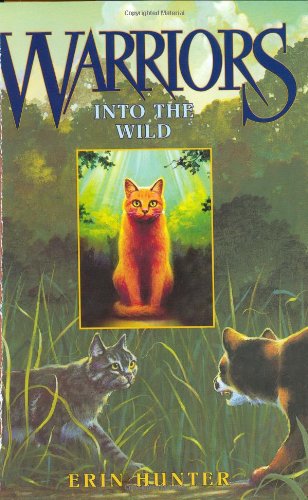 Publisher's Note:
Join the legion of fans who have made Erin Hunter's Warriors series a #1 national bestseller! Epic adventures. Fierce Warrior cats. A thrilling fantasy world. It all begins here with Warriors #1: Into the Wild.
For generations, four Clans of wild cats have shared the forest according to the laws laid down by their ancestors. But the warrior code is threatened, and the ThunderClan cats are in grave danger. The sinister ShadowClan grows stronger every day. Noble warriors are dying—and some deaths are more mysterious than others.
In the midst of this turmoil appears an ordinary housecat named Rusty . . . who may turn out to be the bravest warrior of them all.
Supports the Common Core State Standards
Into the Wild (Warriors book 1)
by Erin Hunter
Overall Review:
Rusty's dreams are filled with the thrill of the hunt and call of the wild, but he never could imagine that one day he would be offered the chance to leave behind his pampered, house-cat existence and join the wild cats of the forest.
Into The Wild is an exciting page-turner, following our main character as he transforms from Rusty the "kittypet" into Firepaw, the warrior apprentice. The world he enters into is a dangerous one, full of constant peril from within and without as the four clans of the forest not only battle for territory, but wage silent war for political power. Through it all Erin Hunter manages to find a near perfect balance among action, character development, and intrigue that allows readers to bond with the cats of Thunderclan and propels them past the end of the first book and into the next so that the journey can be continued.
This middle grade book is a fast-paced thriller of the feline variety that has something to offer anyone. The simple language opens the series up to readers younger than nine while the story and themes provide older readers with a little something more to sink their teeth into.
Content Analysis:
Profanity/Language: None
Violence/Gore: Several brief, mildly graphic, scenes of battle in which blood is drawn and feline characters sustain wounds; 4 extended mildly graphic battle scenes (amongst animals) in which blood is drawn, injuries are sustained and deaths occur(between 3-5 pg each); several scenes of fighting/wrestling for fun;several mildly graphic scenes of hunting prey animals, which may or may not result in death; cat is killed by another cat; danger to kittens is implied when another animal is near; cat lames another cat; one cat clan is wiped out by another (no details); young cat threatens to hit an older cat in the head with a rabbit; secondhand recounting of battles, with or without deaths; cat is murdered; implied threat to kittens; animal prisoner dragged before leader; cat is nearly run over by a car; cat plots to have another cat killed; kittens are kidnapped; secondhand report of young cats dying in training; cat murders family member to become leader.
Sex/Nudity: Many instances of cats grooming each other; several instances of cats licking or rubbing against another in greeting or as a show of respect; 2 non-descriptive references to being neutered.
Mature Subject Matter:
War/Social Conflict, betrayal, death, loyalty, politics.
Alcohol / Drug Use:
None
Reviewed By Amberle