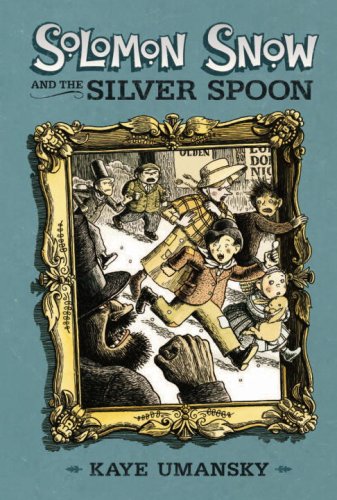 Publisher's Note:
"This over-the-top parody of Oliver Twist-type adventures is a good giggle." - KIRKUS REVIEWS

Now with a dynamic new cover!

Prepare, dear reader, for the tale of Solomon Snow, his bossy friend Prudence, and the insufferable Infant Prodigy as they set out in search of Solly's rightful inheritance -- despite some woeful misadventures along the way.
Solomon Snow and the Silver Spoon
by Kaye Umansky
Overall Review:
Solomon Snow always knew he was not like the rest of his family. The day he learns he was, in fact, left on their doorstep as a babe he sets out with some unlikely friends in search of the only link to his real parents--a pawned silver spoon.
This was a very fun read. The author's chapter headings give the feeling of a caption from silent movies and characters are wonderfully diverse in personality. The scrapes that Solly and his friends manage to get into are realistic enough, but the author is able to keep an overall innocent quality to the story, almost as if a child is telling it, from start to finish. The author makes fabulous use of phonetic dialogue to enhance characters, but it could make it difficult for some younger readers to follow some of the conversations. With a pinch of mystery, a grand little adventure, and a fun twist at the end, one has a thoroughly enjoyable read!
Content Analysis:
Profanity/Language: None
Violence/Gore: Adult threatens children with whip; child hits an adult with a parasol; child stomps on adult's foot; character gets lips stuck to a frozen lock; character is kicked; characters are kidnapped; character hits head on a brick; child steals a spoon; adult hits child.
Sex/Nudity: None
Mature Subject Matter:
Child neglect, parent in prison, adoption, kidnapping.
Alcohol / Drug Use:
Parent is an alcoholic (no description); adult gives another adult Sherry with the intention to intoxicate.
Reviewed By Amberle