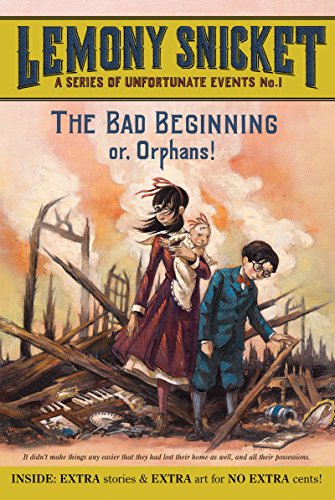 Publisher's Note:
Are you made fainthearted by death? Does fire unnerve you? Is a villain something that might crop up in future nightmares of yours? Are you thrilled by nefarious plots? Is cold porridge upsetting to you? Vicious threats? Hooks? Uncomfortable clothing?It is likely that your answers will reveal A Series of Unfortunate Events to be ill-suited for your personal use. A librarian, bookseller, or acquaintance should be able to suggest books more appropriate for your fragile temperament. But to the rarest of readers we say, "Proceed, but cautiously.
A Series of Unfortunate Events: A Bad Beginning
by Lemony Snicket
Overall Review:
If ever you find yourself having a bad day, then this tale of the three Baudelaire children will make you feel much better. When the orphaned children are sent to live with their dreadful uncle, one can't help but pity them while simultaneously cheering them on as they use their brains and ingenuity to try and foil their dastardly uncle's plans.
I really enjoyed The Bad Beginning, the first of thirteen books about the dreadfully unlucky Baudelaire children. The novel is well-written and the voice, though mildly absurd, is engaging and wonderfully unique (similar to William Goldman's The Princess Bride). The author's use of language and vocabulary, while making it understandable for younger readers, is beautifully balanced. While some parts of the book can be intense, the overall campfire tone of the story softens these moments, making it suitable for children.
The characters are what make the book. While simple, they are fully formed personalities (right down to the baby who communicates in one-syllable words and by biting). One of the most appealing things about this book is that our young protagonists are clever and rely on their minds and books to help them out of trouble. Violet's love of engineering and Klaus' hunger for anything written in a book are immensely refreshing. The passion for learning they exhibit, and the way they utilize their knowledge, provides a wonderful example to readers of any age but especially to younger readers just discovering their potential.
Content Analysis:
Profanity/Language: None
Violence/Gore: Secondhand account of parents dying in fire; infant repeatedly bites people and objects; child contemplates throwing a rock at an adult; child contemplates poisoning adult; adult threatens violence against child; adult strikes child in the face; adult threatens to kill child several times (implied, not overt); child is struck by falling hook causing her to bleed; infant put in cage and hung from window; adult tries to force minor to marry him.
Sex/Nudity: None

Mature Subject Matter:
Death of parents, child neglect/extortion.
Alcohol / Drug Use:
Adults drink excessively at dinner party (no description).
Reviewed By Amberle