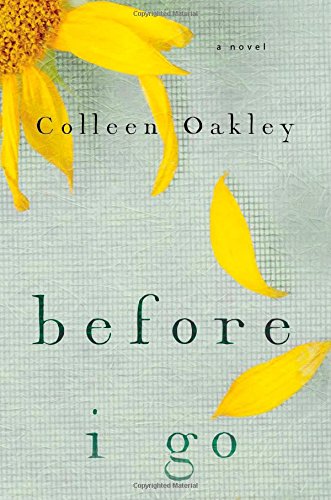 Publisher's Note:
"An impressive feat…an immensely entertaining, moving and believable read" (Atlanta Journal-Constitution), this debut novel in the bestselling tradition of P.S. I Love You revolves around a young woman with breast cancer who undertakes a mission to find a new wife for her husband before she passes away.

Twenty-seven-year-old Daisy already beat breast cancer four years ago. How can this be happening to her again?

On the eve of what was supposed to be a triumphant "Cancerversary" with her husband Jack to celebrate four years of being cancer-free, Daisy suffers a devastating blow: her doctor tells her that the cancer is back, but this time it's an aggressive stage four diagnosis. She may have as few as four months left to live. Death is a frightening prospect—but not because she's afraid for herself. She's terrified of what will happen to her brilliant but otherwise charmingly helpless husband when she's no longer there to take care of him. It's this fear that keeps her up at night, until she stumbles on the solution: she has to find him another wife.

With a singular determination, Daisy scouts local parks and coffee shops and online dating sites looking for Jack's perfect match. But the further she gets on her quest, the more she questions the sanity of her plan. As the thought of her husband with another woman becomes all too real, Daisy's forced to decide what's more important in the short amount of time she has left: her husband's happiness—or her own?
Before I Go
by Colleen Oakley
Overall Review:
What is it like to have cancer? This is a question people might feel is too scary to think about. But really, how do the people that have been diagnosed feel? How do they proceed with their lives? Before I Go is the story of a young woman, Daisy, who has cancer. Again. She and her husband have lived their lives like most do. After getting married they lived typical lives full of dates, appointments, and adventures until cancer showed up--and then things got really complicated. All of a sudden Daisy and her husband Jack can't see very far into the future. Something is blocking their view--cancer.
Daisy's outlook on life was really inspiring. Having cancer looming over one cannot be something that is easy to live with, but instead of feeling gloomy all the time, she gives herself a mission to complete and that goal gives her a little bit of hope. She knows that if she dies, the family and friends she leaves behind will have to move on without her. Preparing them for this is a difficult task, but it is one she wants to try to tackle. Sometimes we can't really be prepared for what life throws at us though and learning that can be hard.
There seem to be an awful lot of books out there about cancer. Whether it is fiction or non-fiction, readers are bombarded with happy stories of recovery, sad stories of loss, and sappy stories of love. Looking for a book that has a great mixture of elements? Turn to Daisy's story in Before I Go, and prepare for a day or two of losing yourself in this book.
Content Analysis:
Profanity/Language: 11 religious exclamations; 8 mild obscenities; 5 religious profanities; 2 derogatory names; 6 scatological words; 3 anatomical terms; 7 F-Word derivatives.
Violence/Gore: Kids starving and being murdered is referred to in a theoretical situation; a character suffering from PTSD is mentioned to shoot his family after returning from a war; an animal being run over and injured is mentioned; a car crash is mentioned to occur, teens are reported to die; a character is reported to have died in a motorcycle accident, injuries are briefly described; injured animals are mentioned with no detail; a character has surgery to remove a tumor.
Sex/Nudity: A woman is mentioned to sleep with a man; adults are mentioned to be nude and have sex in one brief non-descriptive scene; adults touch in a sensual way; a man touches his wife's breast, some sexual innuendo involving nudity is described briefly; a man slaps his wife's bottom affectionately; love making is referred to; losing virginity is mentioned in a conversation; a man is mentioned to be nude and wearing only his socks in front of his wife; minors are implied to be sleeping together/sexually active; a character is referred to as "sexy"; a woman is mentioned to have a desire to have sex with her husband; porn is mentioned with no detail or description; a "bodice ripper" romance is referred to; a man mourns his lack of sex drive; a woman remembers having sex in the back of a vehicle with her boyfriend; a woman suspects her husband is having an affair; a woman is briefly described to be nude in a clinical way.
Mature Subject Matter:
Terminal cancer, death, personal crises, loss of a loved one.
Alcohol / Drug Use:
Guzzling beer is mentioned; adults drink wine; a woman shops for wine; a woman drinks vodka; a drunk driving accident occurs.
Reviewed By Lydia