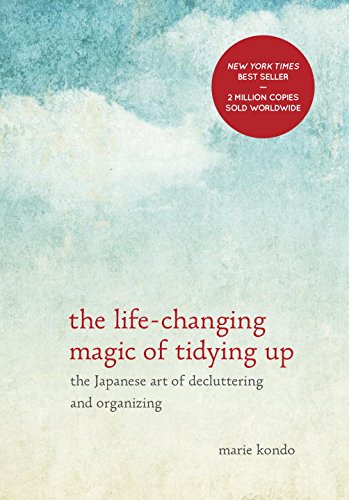 Publisher's Note:
This #1 New York Times best-selling guide to decluttering your home from Japanese cleaning consultant Marie Kondo takes readers step-by-step through her revolutionary KonMari Method for simplifying, organizing, and storing.

Despite constant efforts to declutter your home, do papers still accumulate like snowdrifts and clothes pile up like a tangled mess of noodles?

Japanese cleaning consultant Marie Kondo takes tidying to a whole new level, promising that if you properly simplify and organize your home once, you'll never have to do it again. Most methods advocate a room-by-room or little-by-little approach, which doom you to pick away at your piles of stuff forever. The KonMari Method, with its revolutionary category-by-category system, leads to lasting results. In fact, none of Kondo's clients have lapsed (and she still has a three-month waiting list).

With detailed guidance for determining which items in your house "spark joy" (and which don't), this international bestseller featuring Tokyo's newest lifestyle phenomenon will help you clear your clutter and enjoy the unique magic of a tidy home—and the calm, motivated mindset it can inspire.
The Life-Changing Magic of Tidying Up
by Marie Kondo
Overall Review:
Have you ever looked around your house, and immediately become overwhelmed by all the stuff you have? Books, CD's, DVD's, trinkets...the list could go on and on. We gather and collect things, because they bring us happiness, right? Well, what if I told you about a book that teaches more of a simplistic approach to living and de-cluttering you house? Let me introduce you to a book that will either make your life happier, or haunt you forever: Marie Kondo's The Life-Changing Magic of Tidying Up.

I began this book excitedly, and yet with a little bit of trepidation. I wasn't quite sure what I would find, but I convinced myself I was ready. I have always yearned for my surroundings to be spic and span, so this book seemed perfect for me. Halfway through, I started to rethink my first reaction to this book. My attitude changed from "this is great!" to "what have I gotten myself into?!". I am fully aware of the extremists out there who generate less than a bag of garbage a year. I am in awe of them. Marie Kondo writes of how sometimes, as a little girl, she would get home from school and go directly to a room of her house and start to organize. She doesn't say that everyone should do this, but she does set forth some pretty crazy ideas of how tidying up should be done.
While reading this book, I took note of the order in which Ms. Kondo suggests we should be cleaning our houses. She says that "Once you have experienced the powerful impact of a perfectly ordered space, you, too will never return to clutter!". Okay, but how does a person go about getting that "perfectly ordered" space? By purging and tidying like mad. I thought that this book held a lot of wisdom and good ideas, but I'm not sure how practical it would be for most people to apply the advice to their lives. It would feel amazing to only own what I use every day, and the necessities. However, would my husband be on board? I think not. For me, this book was more of something I can use to refer back to when I am tidying, but I am not going to have it be my "tidying Bible". Now, I am off to do some tidying!
Content Analysis:
Profanity/Language: None
Violence/Gore: None

Sex/Nudity: None
Mature Subject Matter:
Divorce mentioned.
Alcohol / Drug Use:
None
Reviewed By Lydia