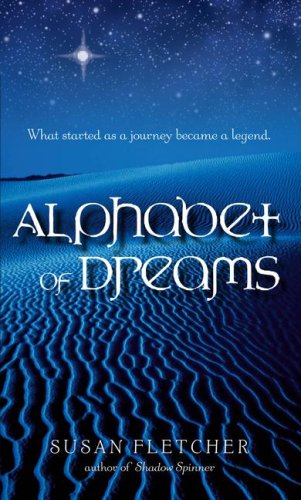 Publisher's Note:
In the city of the dead,
a dreamer awakens....

Young Babak has a magnificent gift: He can dream the future. Mitra, his brave older sister, is sworn to protect him. For them to survive living on the streets, she must do whatever is necessary -- including using her brother's talent for profit.

When Babak is asked to dream for a powerful Magus, he receives a mysterious vision of two stars dancing in the night. Determined to solve this prophetic riddle, the Magus takes the boy and his sister on an arduous journey across the desert. What they discover will change the world in a way that no dream could ever predict...
Alphabet of Dreams
by Susan Fletcher
Overall Review:
Author Susan Fletcher's novel, Alphabet of Dreams, blends historical myth, legend, and prophetic appeal in a poignant yet simple approach that creates a unique and enjoyable read for pursuers of all ages. With the charming tag line, "In the city of the dead a dreamer awakens..." Fletcher envelopes readers on a extraordinary journey encompassing a wide range of Middle Eastern cities during first century AD.
Told through first person narrative, savvy teen Mitra feels she must protect her young brother Babak from those that wish to destroy her bloodline. Mitra is a devoted sister, but still struggles with her prideful self-serving nature that at times puts Babak, who she's sworn to safe guard, in compromising situations. Though Mitra and Babak are the book's main focus, the novel does not lack in supporting characters that are both ambiguous and genuine, thus bringing a wide range of fascination to the shifting plot.
Readers who are acquainted with Fletcher's previous novel, Shadow Spinner, will find Alphabet of Dreams familiar in regards to the author's writing style, her ability to present diverse cultural aspects, and talent to make a well-known or beloved story distinctive. Fletcher's flair for weaving fiction and history together is well blended and appropriately referenced to in the sections at the end of the novel entitled "author's note" and "works cited in author's note..."
"What started as a journey becomes a legend."
Fletcher awakens readers to an astrological and religious pilgrimage only attainable in the place of dreams.
Content Analysis:
Profanity/Language: 1 religious exclamation; 2 mild obscenities.
Violence/Gore: Mild brief scuffle between characters; brief memory of violence, blood mentioned (referred to in book no more than 10x); character is grabbed, they kick, elbow, and bite to be free; rocks are thrown striking characters; character briefly threatens to slaughter an animal; character is threatened at knife point; extended scene (about 1 page) stand-off between characters using sharp objects, tackling, and biting; characters are poked with a knife; character falls hitting chin, gushing blood depicted; report of soldiers mass murdering infants; report of family member(s) death; character may or may not have been tortured to extract information; characters feel their lives are in danger.
Sex/Nudity: Character examines their body, touching self (non-sexual); the monthly cycle of women is referred to a few times (about 5) throughout novel.
Mature Subject Matter:
Death of family member(s), orphan(s), homelessness, deceit of gender, thieving.
Alcohol / Drug Use:
Mention of wine; children drink wine (culturally acceptable) a few times (less than five); drug used to induce sleep.
Reviewed By MaryLou