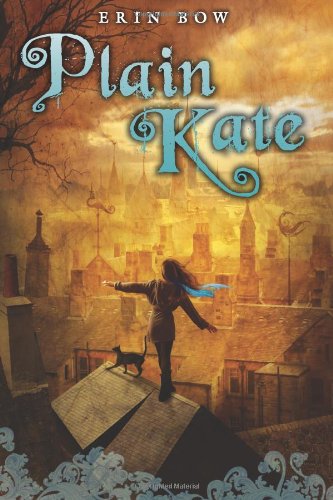 Publisher's Note:
A debut novel that's as sharp as a knife's point.

Plain Kate lives in a world of superstitions and curses, where a song can heal a wound and a shadow can work deep magic. As the wood-carver's daughter, Kate held a carving knife before a spoon, and her wooden charms are so fine that some even call her "witch-blade" -- a dangerous nickname in a town where witches are hunted and burned in the square.
Plain Kate
by Erin Bow
Overall Review:
Combine a charming, haunting, and lyrical writing style with a fabulous cat, a complex villain, and a lonely but strong girl, and you have Plain Kate by Erin Bow. The protagonist, Plain Kate, struggles valiantly to make her way in an unfriendly world filled with magic, Roamers, and witch-hunters. Kate's aloneness in the world made my heart ache for her and elevated the tension in the story while creating an unpredictable storyline. Kate's feline companion provided needed comic relief at key times. Although it is filled with some painful moments, Plain Kate concludes on an authentic and hopeful note. Loved it!
Content Analysis:
Violence included the following incidences: there is a report of deaths due to illness; there is report of death by burning; there is a report of a death by drowning; a market stall is attacked and destroyed with an ax; a character is attacked by a crowd/mob and the character's ear is cut with a knife; there is a report of deaths by a plague; a character is locked in a cage and then the cage is set on fire; a magical creature destroys some people; a character is tortured; a character dies by knife; a character dies.

Other content of note was magic involving the use of blood. The blood was not obtained through violence per se, but nevertheless those scenes could be a bit disturbing for someone sensitive to blood. Also there was a reference to a "woman's monthly blood". Because of these items and some of the heavier themes, I would recommend a slightly older reader.
Mature Subject Matter:
Mature themes include stereotyping, witch hunts, death, exploitation of the weak and outcast, revenge, and restitution.
Alcohol / Drug Use:
***
Reviewed By Cindy