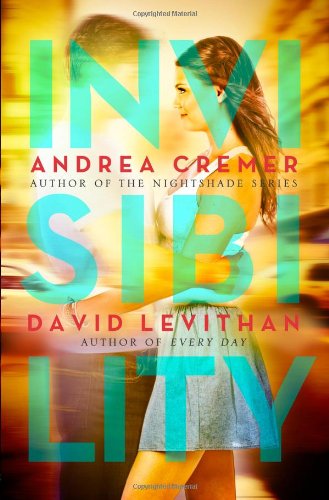 Publisher's Note:
A magical romance between a boy cursed with invisibility and the one girl who can see him, by New York Times bestselling authors Andrea Cremer and David Levithan.
Stephen is used to invisibility. He was born that way. Invisible. Cursed.

Elizabeth sometimes wishes for invisibility. When you're invisible, no one can hurt you. So when her mother decides to move the family to New York City, Elizabeth is thrilled. It's easy to blend in there.

Then Stephen and Elizabeth meet. To Stephen's amazement, she can see him. And to Elizabeth's amazement, she wants him to be able to see her—all of her. But as the two become closer, an invisible world gets in their way—a world of grudges and misfortunes, spells and curses. And once they're thrust into this world, Elizabeth and Stephen must decide how deep they're going to go—because the answer could mean the difference between love and death.

From the critically acclaimed and bestselling authors Andrea Cremer, who wrote the Nightshade series, and David Levithan, who wrote Every Day and co-wrote Nick and Norah's Infinite Playlist with Rachel Cohen and Will Grayson, Will Grayson with John Green, as well as many other novels, comes a remarkable story about the unseen elements of attraction, the mortal risks of making yourself known, and the invisible desires that live within us all.
Invisibility
by Andrea Cremer & David Levithan
Overall Review:
Invisibility is a fantasy, romance, and mystery novel written in alternating view points by Elizabeth and Stephen. The authors, Andrea Cremer and David Levithan, seamlessly move the storyline along with the alternating voices. I have not read any of the Nightshade Series by Cremer so going in I had no expectations regarding her writing; readers familiar with David Levithan know that alternate lifestyles are common in some of his writing and this was also the case in Invisibility. The magic in the book is more believable than Harry Potter and is explained in a way that makes it seem plausible, even in today's world. The characters are well-developed and easy to like. I found myself cheering them on as they went on their adventures. The romance that blossoms between characters is sweet and caring.
Content Analysis:
Profanity/Language: 5 religious exclamations; 15 mild obscenities; 7 derogatory names; 1 scatological word; 5 anatomical terms; 1 offensive hand gesture.
Violence/Gore: Character is said to be cursed; character recalls having a fistfight that ended with a broken nose; character recalls brother being beat up at school for being gay; character recalls another character being verbally/physically abusive (no details); character speaks of casting spells; character observes curses surrounding multiple people; character discusses sibling's previous attack for being gay; teen characters discuss past suicidal thoughts and close attempts; teen characters discuss bullies from the past; character draws a curse into their body with painful consequences; character sets a blanket on fire and tries to set his clothing on fire; character tries to scratch her face off; character loses control of their legs; character is made mute; character is made to eat dirt; character cannot see his legs; child tears off her clothes thinking they are covered in scorpions; boy tears his own hair out; couple beats each other up; character tries to hang his dog with his leash; character cuts himself with glass; characters' nose bleeds; character falls off the top of a building to his death.
Sex/Nudity: Character takes a shower (with few details); characters are said to be gay; character jokes that another character is a lesbian; heterosexual characters kiss; heterosexual teens discuss making out; heterosexual teen characters stay the night together and make-out (few details); homosexual teen characters watch movies alone on the couch; character refers to heterosexual couple as lovebirds mating; heterosexual characters kiss and make out; homosexual character describes his crush on a male teenage character; homosexual teen character discusses his attration to another male teen character with few details; male character briefly mentally considers the risks of engaging in sexual behavior with a female character, non-detailed.
Mature Subject Matter:
Abandonment by parent, death of a family member, gay relationship, divorce, suicide, magical spells and curses.
Alcohol / Drug Use:
Adult character has a beer in a bag.
Reviewed By Nicole